The Walker, Waterhouse and a Wedding...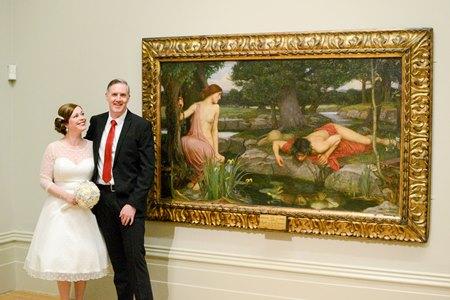 Suzanne and Anthony in front of Waterhouse's Echo and Narcissus The
Walker Art Gallery
is an undeniably romantic setting for a date, even if we do say so ourselves! When Suzanne and Anthony visited the gallery together on their second date back in 2008, they couldn't have imagined that they'd be returning a little over nine years later on their wedding day! Suzanne is a big
Pre-Raphaelites
fan and wanted her favourite painting in the Walker to feature as part of their big day. "We met 9 years ago to the day we got married," Suzanne tells us, "it was 2008 and I'd gone to watch Mark Morriss from The Bluetones at the The Dry Bar in Manchester, where Anthony is from.
"On our second date, I said I'd take him to the Walker to show him my favourite painting, Echo & Narcissus by John William Waterhouse. On the train in to Liverpool he confessed he'd never been to Liverpool before! I was a bit taken aback as I love the city and have spent hours sat in front of Echo over the years.
"We have spent our 9 years together learning to love Liverpool together and it's why we wanted to get married here. Anthony was going to propose to me in front of the painting but it had gone to Japan on tour so it was a few months later that he proposed in our house. "We will continue coming to the gallery. I also like seeing one of the original suffragettes bust as my great great aunt was a suffragette and I am extremely proud of that." Following their wedding at St George's Hall, we were thrilled that Suzanne and Anthony were able to call into the Walker where we captured these beautiful photographs: [slideshow_deploy id='15642'] Thanks for visiting us on your special day, Suzanne and Anthony - and a huge congratulations on your wedding on behalf of everybody here at the Walker! Echo and Narcissus is part of the Walker Art Gallery's collection. It is currently on display in our temporary exhibition
Victorian Treasures
, until 7 May. Free entry.