On the Waterfront - George's Dock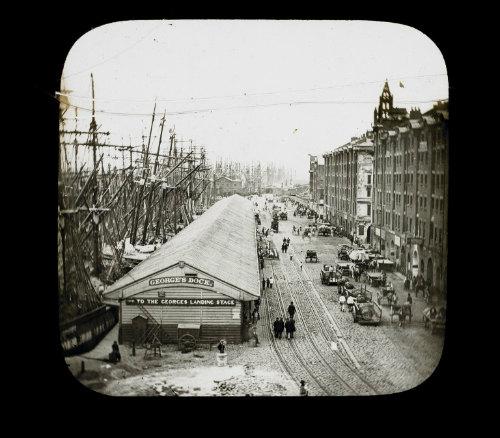 For the last few months I've been working on an exhibition that is based around Liverpool's waterfront. Its aim is to explain the buildings that line the Mersey from Kings Dock to Princes Dock. Considering that includes Albert Dock, the Three Graces and the Landing Stage, that is quite a wide brief, so the focus is on explaining why the buildings exist and how the area has changed from a commercial to a cultural one, as the demands of the port of Liverpool have changed. It was also a lovely opportunity to look at lots and lots of the photographs and dock estate plans we hold at the Archives Centre.
Of the many images in the exhibition one of my favourites is this lantern slide view of George's Dock (the use of possessive apostrophes in dock names is inconsistent - blame the Victorians) from the 1870s. The original is about 10cm by 10cm but in the gallery it is shown on a light box about 1m square.  The detail on it is amazing, from the snow on the vessels to the barrels on the carts. The On the Waterfront exhibition is now open on the ground floor of the Merseyside Maritime Museum and runs until 19 June 2016. I hope you will come and admire this image and many of the others.
Lead image: Glass lantern slide of George's Dock and Goree Warehouses - Liverpool c1874 - courtesy of National Museums Liverpool, Merseyside Maritime Museum