What to Do With Your Loot: Renovating the Benin Displays at World Museum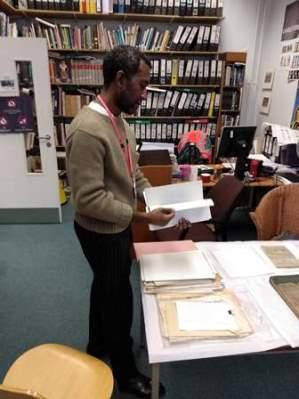 If you have been following World Museum blogs or social media you will have seen that we are in the first stages of renovating our outdated World Cultures Gallery.
The project focuses on a few key display areas of the larger gallery, one of which is the Benin exhibit within the Africa displays. The project provides an opportunity to explore ways of re-thinking Benin's history and culture as part of a wider global story to make it more relevant and responsive to contemporary audiences in Liverpool and beyond. New and engaging content for the renovated display will be developed around key questions in themed workshops with a small group of Liverpool residents with a particular interest in the past, present, and future implications of holding and displaying Benin collections in museums.. Workshops will be facilitated by Leo Asemota, an artist from Benin whose practice interrogates and links historical and cultural themes from both Britain and Benin City. A couple of weeks ago Leo came to Liverpool to explore the museum's Benin-related archives in preparation for the workshops.
The museum's archive includes photographs of Benin created by a Liverpool trader in the early 1890s, but Leo was also able to look through various other archival letters, newspaper articles, publications, and even hand-written accounts. Many of these related to the so-called British 'punitive expedition' sent to subjugate Benin City in February 1897, during which British forces looted thousands of royal artworks in bronze, brass and ivory from the palace complex. What really caught Leo's eye, though, was something more contemporary; a newspaper article from 1981 cut from the lifestyle pages of a Sunday broadsheet newspaper. The article profiles an up-market shoe designer boasting a clientele of international celebrities. It featured the image of a Benin queen mother's head used as a prop for advertising a collection of zebra-patterned shoes. Leo was instantly struck by this image and selected the cutting as an item of particular interest for the project.
As an example of cultural appropriation for commercial purposes, the 1981 image is especially shocking for the way that it thoughtlessly replicates the desecratory structure of much earlier photographs taken in Benin in February 1897.
In these photographs British officers with the punitive expedition are shown seated in triumph on looted brass altarpieces and other treasures stripped from the ancestral shrines in the royal palace and piled up in the palace courtyard. The image from 1981 represents a peculiar reincarnation of the photographs taken 84 years earlier in Benin. It activates a toxic colonial memory in order to urge wealthy customers to spend their 'loot' on zebra-striped shoes.
Museums, as theatres of memory-making and storehouses of ill-gotten colonial props, have much to do in helping to re-examine and counter the violently-fashioned memory-scapes of our colonial pasts. The workshops with Leo Asemota at World Museum are intended to play a key part in the process!