What does World Cultures mean to you?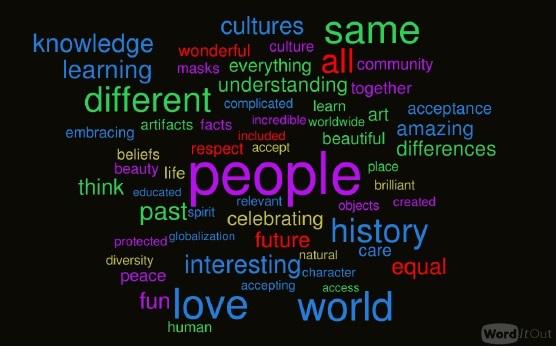 We are curious. We want to know what the words 'World Cultures' mean to you? It is the name of World Museum's biggest gallery, but does it really display the world? In May 2019, as we began the process of changing the World Cultures gallery we asked visitors to share their thoughts on that very question: What does World Cultures mean to you? We've received nearly 200 replies, so a big 'Thank You' if you took the time to post your comments. While each postcard was written from a personal point of view, we wanted to see if your responses had things in common that could help us make sense of what visitors get from a visit to the 'World Cultures' gallery. We have read and digitally scanned every card and with the help of Tim Medland, a University of Leicester MA student, we have identified a number of themes and words that appear regularly in your responses, which you can see in Tim's word cloud.
Words like 'people' and 'different' or 'difference', 'same' and 'love' were popular in your responses, but these words were used in a number of ways. Some comments show that you loved learning about different cultures (often described as cultures from the past) and you saw the gallery as a place of hope and unity, where people could learn about diversity and understand difference.
Other comments give us a better understanding of what you thought should and shouldn't be included in a gallery called, 'World Cultures'. Some of you wanted to know why Europe's cultures were not on display and why you could not see yourself represented in a gallery of world cultures.
In some cases you connected the phrase 'World Cultures' to colonialism. Working in a museum, I know that culture is a contentious word. Using words like 'culture' and 'art' to describe and separate the things people produce when expressing themselves means that some people are described as contemporary and modern (the term art is often used here), and some are described as traditional and existing in the past (we are more likely to see culture used here). 'Culture' is then, neither a neutral or objective term. When we create displays of culture in the museum – like the displays in the World Cultures gallery – we create narrow stereotypes of people and places, which is perhaps why so many of your talked about difference.
In the comments we collected, the cultures represented in the gallery are continually described as different and the general feeling was that you were learning about someone else's culture and not your own. If the World Cultures gallery is thought to display difference there are a few things we need to think about. How can we create new displays that acknowledge the different ways people experience the world depending on culture, race, gender, disability and sexuality. Also, how can we challenge the idea that people and places from across the world are separated and divided by culture? A good place to start is by thinking about our own individual culture, or more accurately speaking, our cultures. How many cultures do you belong to? Football, dancing, parkour, instagraming, fashion, protesting, museum-visiting, running, charity work, shopping, knitting, gaming. All are cultures in their own right, and you might even do some at the same time. If you think about it that way, then how many people around the world belong to your cultures?
If culture needs to be more dynamic and inclusive in our new displays, and if we need to address new questions around displaying difference, then this leaves us with a big question: What does culture look like in the future? Some visitors, including Isobelle age 10, have started to think about just that. They identified something that we want to address in the gallery: how can objects from the past help us think about our present cultures and what our future cultures might be? Your responses to 'What does World Cultures mean to you?' have helped us write our next three questions, so we can think about some of these ideas in more detail.
They are:
What unites and divides us?
What cultures do you feel part of?
What is the future of culture?
These questions will help us talk about the many ways we are connected to communities of culture and how difference impacts our lives on a daily basis. They will also help us work out what culture might look like in the future, especially if we want to create displays of culture that are more than just about creating stereotypes.
Now over to you. If you are in Liverpool come and leave your responses on the Where Next discussion board in the World Cultures gallery. Or, you can join in the conversation using the hashtag #WMWhereNext on Facebook, Twitter and Instagram.