When Elisabeth Vigée Le Brun met Emma Hamilton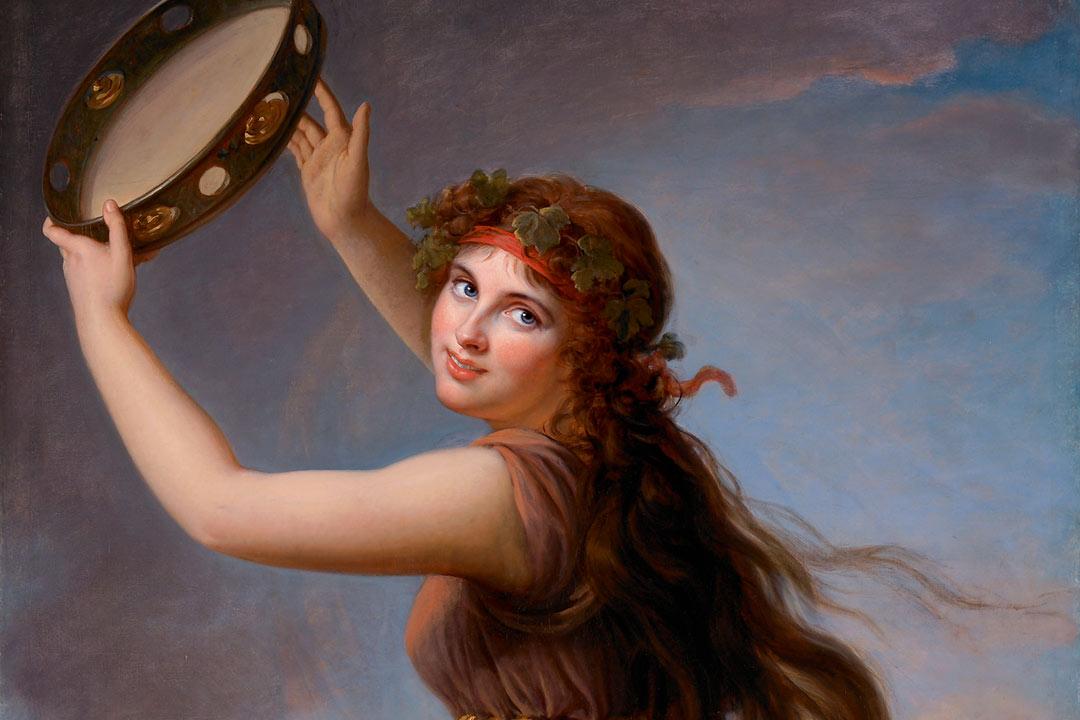 We know quite a lot about Vigée Le Brun's portrait of Emma Hamilton, and what the artist thought of Emma, because in the mid 1820s, towards the end of a long painting career of more than 50 years, she decided to write up her diaries and publish them as memoirs in 1836-37.
Vigée first met Emma when the artist arrived in Naples in 1790, having fled Paris with her 9 year old daughter, at the start of the French Revolution in 1789. Vigée was given refuge by the Queen of Naples, the sister of the French Queen Marie-Antoinette, whose favourite portrait painter was Vigée. When she fled Paris she left her art-dealer husband, Jean-Baptiste Le Brun, behind to protect the family house and studio contents. He was later forced by the French Revolutionary government to divorce her to retain their property.
She spent the next 12 years travelling around the courts of continental Europe visiting cities in Italy, Austria and Russia, making a successful living by painting portraits of royalty, aristocrats and their courtiers.  Soon after arriving in Naples Vigée was commissioned by the elderly British diplomat, Sir William Hamilton, to paint his young mistress Emma Hart (who was born Amy Lyon on the Wirral but later changed her name), whom he married in September 1791.
In all Vigée painted Emma 3 or 4 times. The first portrait of Emma (painted in 1790) showed her as the Greek goddess Ariadne reclining in a seaside grotto and holding one of Sir William's ancient Greek vases, 9 of which are now in the collections at the Lady Lever. The artist was eager to paint Emma, whose dramatic dance performances, so-called 'Attitudes', during which she recreated the poses on her lover's classical vases, with the help of veils and scarves, were famous across British and Italian society.
The artist watched at least one performance of the 'Attitudes'. Although she admired Emma's beauty and acting ability, conveying different emotions quickly, she mocked her vulgar dress-sense and lack of intelligence, criticising her sarcasm. English diarists, such as Lady Holland (1771-1845) were disgusted by Emma's 'common' provincial accent, recounting how Emma, while representing a water-nymph, lay her head on one of Sir William's Etruscan vases and shouted "Doun't be afeared Sir Willum, I'll not crack your joug".
'Lady Hamilton as a Bacchante' by Elisabeth-Louise Vigée Le Brun
The Lady Lever portrait, which was probably painted early in 1792, shows Emma as a Bacchante, an exuberant follower of the Roman god of wine, with vine leaves wound around her head and her long flowing chestnut hair, which greatly impressed the artist, blowing in the breeze. She dances to the rhythm of a tambourine in front of the smoking volcano Vesuvius, which could be seen from Hamilton's rural villa, south of Naples. 
Vigée left Naples in spring 1792 apparently taking the dancing Bacchante portrait with her as an advert for her artistic talents in the courts of Europe. Emma's portrait remained with her until Vigée's death in Paris 1842, when it was bequeathed to her niece.
Vigée did meet Emma again, but in England in 1804. By then Emma was the mistress of the British naval hero Admiral Nelson, who died at the battle of Trafalgar in 1805. Though the artist had long been keen to visit England and was welcomed by several artists she was also virulently and publicly criticised by others, such as John Hoppner, by whom the Lady Lever also has a portrait displayed in the same room as Vigée's.
The first retrospective exhibition in Europe of Vigée Le Brun's work was held at the Grand Palais in Paris in 2015-2016. When I visited the successful Paris exhibition on its - packed - last day I noticed that the same lilac-purple colour of Emma's dress had been chosen for the shawl worn by one of the aristocrats Vigée painted in St Petersburg in 1797.
The portrait of Emma, which was conserved in 2015, is on show in the South End galleries at the Lady Lever Art Gallery.