Where my husband almost died in the Blitz
Our Blitzed exhibition has brought back many memories for Liverpool families. Val Deegan, the latest person to add a visitor response to the exhibition, explains why one photo had a particular significance for her husband.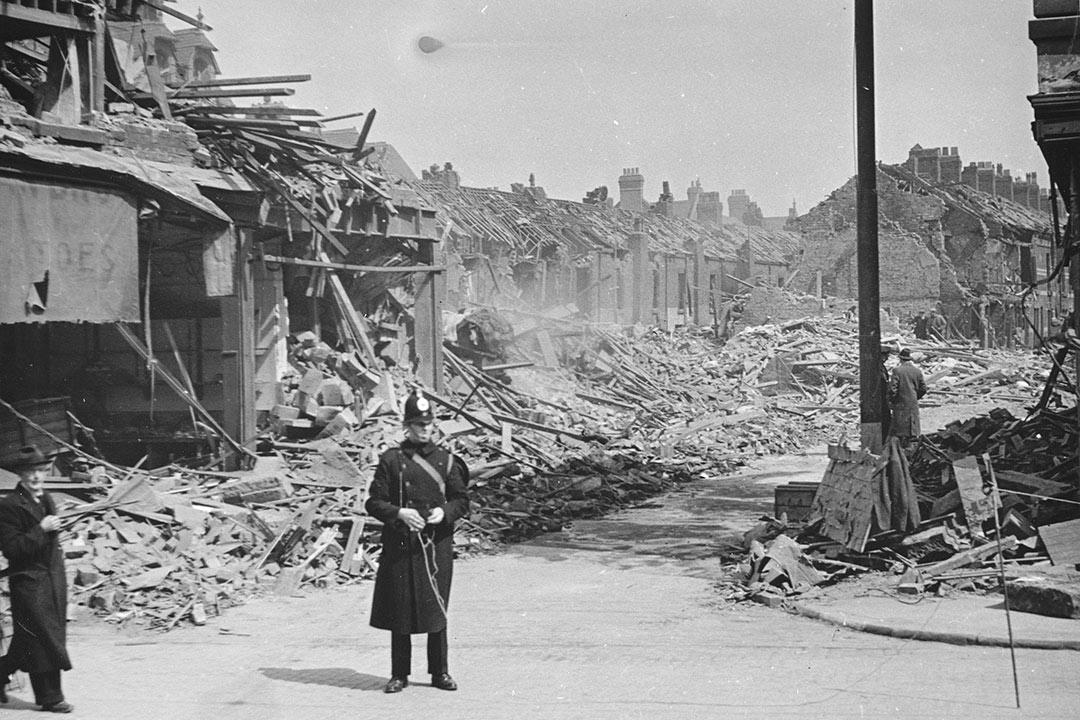 Index Street and County Road, Walton, 3/4 May 1941 © Merseyside Police
On my birthday, 2 September 2019, my husband, Jim Deegan and I took our grandchildren for a day out in Liverpool and visited the exhibition Blitzed: Liverpool lives at the Museum of Liverpool.
We were somewhat jolted on seeing the first photograph which was of Index Street – this was where my husband almost died. He and his two sisters and mother, Ethel, were evacuated to Marton in Shropshire. However, with a false sense of security due to 'the phoney war', Ethel decided to nip home for a weekend with Jim (aka Gerald), aged 2½, to see her husband, Jim Senior, who was an Air Raid Warden. 
Jim's mother Ethel May Deegan. Courtesy of Val Deegan
On the first night back, being unfamiliar with the air raid shelter routine, Jim and his mother sheltered under the stairs of their home at 3 Index Street. A landmine came down and blew half the street away, killing Ethel, aged 39. It was two days later before young Jim was dug out of the rubble. It was chilling to think that the photograph in the exhibition showing the debris could be concealing the dead and injured pair. Jim was subsequently looked after by relatives. 
Jim with his arm bandaged after being rescued from the rubble in the Blitz. Courtesy of Val Deegan
Later, he was reunited with his sisters, Joan and Maureen, as an evacuee in Shropshire but he was six years old before he could return to Liverpool. Sadly, he was only 11 when his father died. However he won a scholarship to The Collegiate High School for Boys, then trained as an engineer in the Royal Navy. We were married in 1964.
When we visited Liverpool a few years ago we noticed that a Tesco supermarket stood on the site of where their house was and the remainder of the street had become a cul-de-sac.
Jim took this photo of the remains of Index Street when he visited Liverpool. Courtesy of Val Deegan
Jim's family lost touch with Annie and Tom Butler who looked after him as an evacuee in Marton. In 1984 we went back there. We visited the local church and Jim briefly wrote his tale and home address in the visitors' book. It turned out that whilst cleaning the church one day, a relative of Annie's read the book and put him in touch with the couple. Happily they replied and Jim was reunited with them after 40 years. The story was featured in the local press.
Jim with Annie and Tom Butler in Marton. Courtesy of Val Deegan
We enjoyed 56 years of happy marriage until last year when he died just a month before his 82nd birthday. Although he lived in Yorkshire for most of his later life, Jim remained 'a red' at heart.