Where was 'Peaky Blinders' filmed in Liverpool?
Did you know the much-loved period crime drama, Peaky Blinders is filmed in Liverpool? Despite being set in Birmingham, many of the most famous scenes from the hit show are actually filmed further up north. From shootouts to betrayals, we take a look at some of our favourite Peaky Blinder scenes filmed in Merseyside!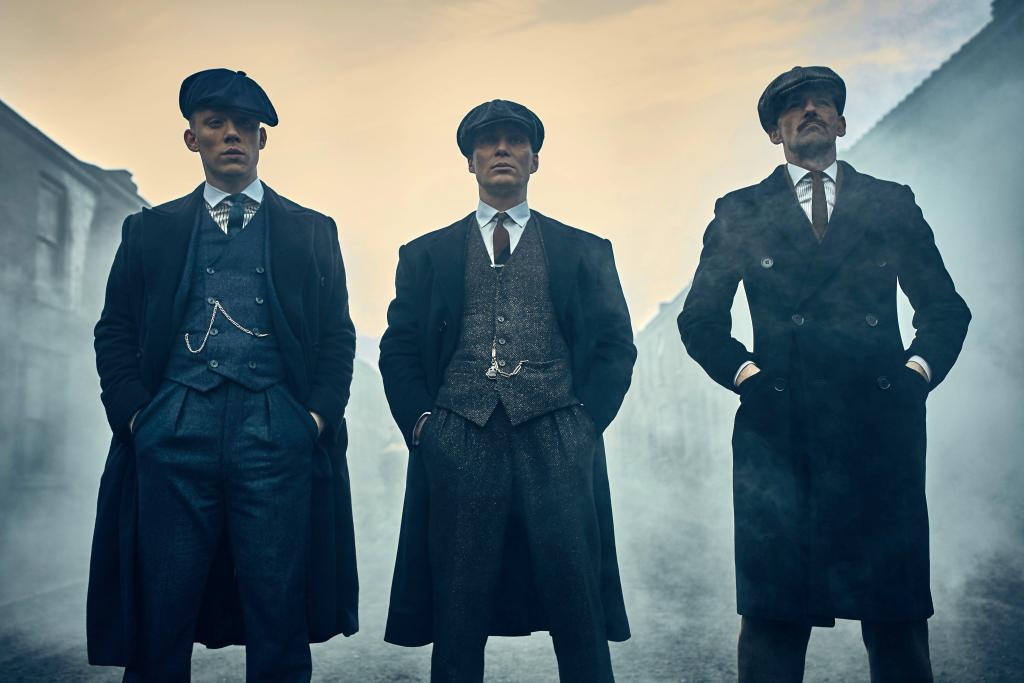 !!!WARNING SPOILERS AHEAD!!!
Powis Street, Toxteth 
Season 1, Episode 1 ( And multiple scenes over the 5 seasons)

We must, of course, start at the very beginning. In the first five minutes of Season 1 Episode 1, we are introduced to war hero turned gang leader Tommy Shelby (Cillian Murphy), riding a horse down a muddy residential street named Watery Lane. Cillian Murphy on a horse looking moody, what more can you ask for? 

This iconic opening scene filmed in Powis Street, Toxteth, perfectly set the tone for the hit show and is where the Shelby home, headquarters and illegal betting office are located.

Since 2017, Powis Street and the abandoned houses around 'The Welsh Streets' have been regenerated and no longer look like the grim blackened streets of 1920s Birmingham. However, the size and structure of the houses were not changed and so the essence of Watery Lane still remains.
Stanley Docks
Season 1, Episode 6

In the season 1 finale, it's all about the battle between the Peaky Blinders and Billy Kimber. As the two gangs come together the tension is building, but before any guns are fired, a fed-up and confident Ada Thorne (Sophie Rundle) pushes through the men with her baby in a stroller and stands in the middle of the fight. She chastises the men for their ridiculous display of masculinity, and for a second it appears her words have stopped the fight. But then Billy Kimber ruthlessly takes a shot at Tommy who gets hit in the shoulder, and Danny Whizzbang (Tommy's friend and comrade from the war) retaliates and gets killed by Kimber's men. At this point Tommy regains himself and shoots Billy Kimber right in the forehead.
This epic showdown was filmed outside the old Tobacco factory at the Stanley Docks, with the walkways around Stanley Docks doubling up as the street outside the Garrison Pub. The factory has since been transformed into luxury apartments, but you can still see the outside façade which remains the same.
Port Sunlight
Season 2, Episode 2

Polly Shelby (Helen McCrory) is one of the most formidable characters in the Peaky Blinders. Her no-nonsense attitude, brutal decision making and general badassery makes her one of the strongest members of the Shelby family. In season 2 episode 2, we see the Shelby brothers showing their aunt Polly the recognition and appreciation she deserves by gifting her a house in a quiet, picturesque village.
This idyllic scene is actually filmed in Port Sunlight, a beautiful village just outside Liverpool city centre. As well as hosting the Peaky Blinders cast and crew it's also home to our very own Lady Lever Art Gallery. So if you wanted to see where the legendary Polly Shelby lived and have a nice day out, Port Sunlight is the place to go!
Falkner Square
Season 2, Episode 5

Throughout season two we see the cat and mouse games between Tommy Shelby and Inspector Campbell in full flow, although it's never really clear who is the cat and who is the mouse! In episode five we see Inspector Campbell targeting Tommy's family with multiple arrests to pressure him into killing Henry Russell at his home in Belgravia. Instead, Tommy's younger brother, John Shelby puts a bomb through the letterbox of Russell's Belgravia home to change the assassination site to the Epsom Derby. This is to ensure the safety of Tommy by allowing him to assassinate Russell closer to home in a place away from the police. 
The explosion scene was filmed was on Falkner Square in Liverpool's Georgian Quarter. In the scene, you can see the square behind John as he brazenly walks away from the detonated bomb. Falkner Square has an uncanny resemblance to the posh London district famous for its elegant streets lined with townhouses and garden squares.
St George's Hall
Season 3 Episode 2

In season three, time has moved on considerably, Tommy has fallen in love, married Grace and has a son called Charles Shelby. Early on in season three we see John acting up and angering the Italian mobsters, the Changretta family by insulting one of the sons Angel. In episode 2, by order of Vicente Changretta, a man storms into an event Tommy was hosting and tries to shoot him shouting 'For Angel!'. He misses and kills Grace instead. This tragic scene takes place in Liverpool's famous St George's Hall.
The stunning neoclassical building contains law courts and concerts halls, one of which was used for filming of this scene. Located opposite Liverpool Lime Street Station, St George's Hall has been used as a backdrop for numerous Blockbuster movies and TV shows including 'Fantastic Beasts and Where to Find Them' and the upcoming Batman film.
Formby Beach
Season 4, Episode 6

In the final of season four, we see the end of fan favourite Alfie Solomons (Tom Hardy). The two frenemies confront each other after Tommy traces Alfie to Margate, knowing Alfie has betrayed him. Alfie Solomons reveals he has skin cancer and he intended Tommy to find him so he could put him out of his misery. Despite Alfie betraying Tommy twice, the Peaky Blinder finds it hard to pull the trigger and demands Alfie look at him in the eyes. Eventually, Alfie gets frustrated and provokes Tommy by shooting him in the side, Tommy fires back. We then see Tommy walk away with Alfie's loyal dog staying by his body.
The beach posing as Margate is in fact Formby Beach, a glorious beach with dramatic sand dunes, surrounded by sweeping coastal pinewoods and only a 40-minute drive from Liverpool city centre. 
You can see one of the peaky blinders caps worn by Cillian Murphy as well as a matching pocket watch in our new display Wondrous Place at the Museum of Liverpool.