Who is Diana Wynyard?
When browsing the online collections of the Walker Art Gallery, one can't help but stop and stare at this intriguing portrait. Her peculiar position, clothing and expression beg the question, who is she? Ellie Field, Digital Content Producer, looks into this mysterious woman's life to discover who she is.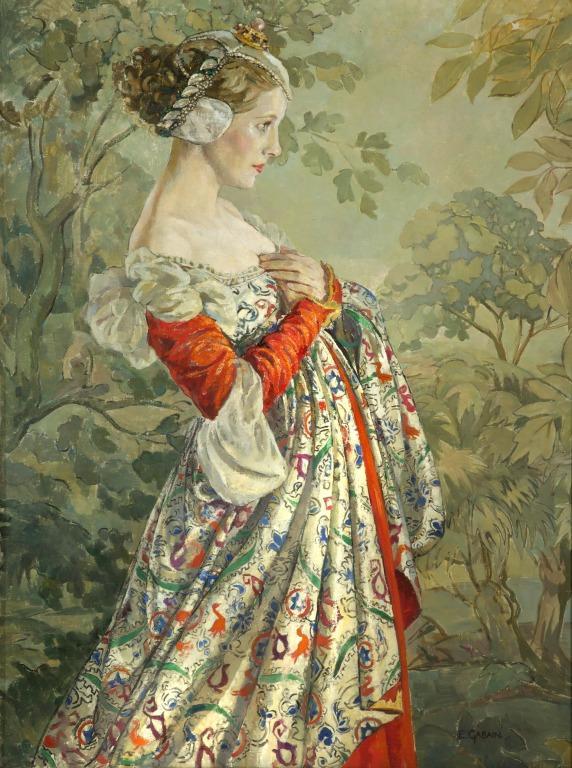 The painting in question is by the French-English artist Ethel Léontine Gabain (1883-1950). Painted in 1938, it depicts Diana Wynyard in Humbert Wolfe's play, The Silent Knight. The composition is unusual as we see Diana from the side in an almost 's'-like curve created by her slender neck and leaning position. The painted scene behind her and the dramatic expression on her face are strong indications this was painted from a play. 
We don't know much about the play portrayed in the painting, except that it was a romantic comedy in three acts, which appeared at St James's Theatre during the 1937-38 season, and that it got a good write up in the New York Times:
LONDON SEES OPENING OF 'SILENT KNIGHT …'Silent Knight', by Humbert Wolfe, from the Hungarian of Eugene Heltai, was presented at St. James's Theatre tonight by Gilbert Miller. It was well received and seems destined to run for some time.

So, who is this striking woman? Diana Wynyard, who was born in London in 1906, was a highly successful English Actress of stage and screen. In 1932, she was signed to a contract at MGM (The American media company well known for the roaring lion at the beginning of its films). She starred in 'Rasputin' and the Empress' (1932) and in Noël Coward's 'Cavalcade' (1933), for which she received an Academy Award nomination. After her brief stint in Hollywood, she returned to England, moving between film and stage roles. As she got older, she took more supporting character roles but got to work with some stellar names, like James Mason and Audrey Hepburn. She even worked with the legendary Dame Maggie Smith (who was 30 at the time) on a play for the National Theatre Company, but, unfortunately, Diana Wynyard died in May 1964, before the play debuted to audiences.
 
Wynyard did have connections with Liverpool. She was a member of the Liverpool Repertory Theatre Company, which was established in 1911. The company bought the Star Theatre, which made it the first repertory in Britain to own the freehold of a theatre. The theatre was renamed the Liverpool Repertory Theatre, and in 1916 renamed again, as the Liverpool Playhouse, which still runs to this day. When the theatre was managed by the actor and theatre director William Armstrong, he brought in a lot of burgeoning talent. As The Times said:
The Playhouse under his management enlisted and trained actors and actresses with extraordinary success, so that in time the West End stage was full of its graduates – of whom Diana Wynyard, Richard Bird, and Robert Donat are typical names.

Other notable names that emerged from the company are Noël Coward, Patricia Routledge, Anthony Hopkins and Richard Briers. 
Wynard had an interesting personal life too. She was married to the English film director Sir Carol Reed from 1943- 47. She later married the Hungarian physician Tibor Csato. However, Wynyard was also rumoured to be a member of an elite Hollywood network of closeted lesbian and bisexual actresses, referred to by Marlene Dietrich as the 'Sewing Circle'. The Circle gathered at each other's houses to provide a safe space to talk openly about their sexual and romantic interest in other women. Other known members of the Sewing Circle were Greta Garbo, Marlene Dietrich and the openly lesbian poet and playwright, Mercedes de Acosta.
We'll leave you with this clip from the BFI, an extract from the film 'Gaslight', made in 1940 and starring Wynyard alongside Anton Walbrook. It is credited as 'One of the strongest films of the 1940s' by Martin Scorsese.