'Wild-flowering' at World Museum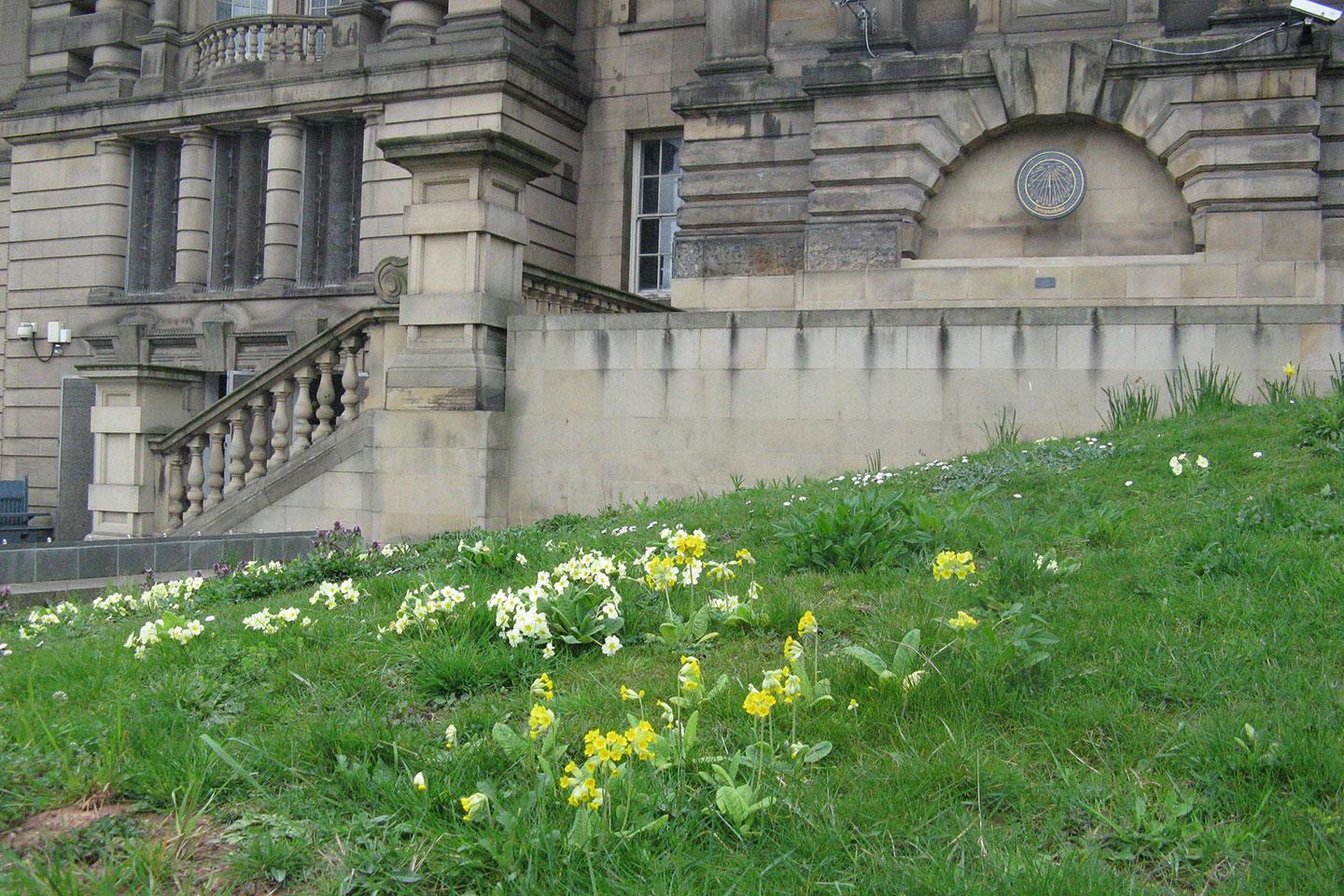 It was early Spring when I last saw our City Wildflower Meadow, which grows in front of Liverpool's World Museum. Primroses, cowslips and native daffodils were in full flower and new plant shoots were emerging daily. Plug plants, lovingly grown at home, had been introduced and a lot of time had been devoted to digging-out invasive plants from the meadow borders. It promised to be a 'wild-flowering' year to remember.
That was ten weeks ago, and little did I realise then, just what lay ahead for us all. I don't think any of us did. The Covid 19 pandemic has been a time of unimaginable crisis and tragedy, turning all of our lives upside down. Suddenly growing wildflower plants at home and developing a meadow at work seemed irrelevant. And, so I stopped. Lock-down made visits impossible anyway and, for a long time, I hardly thought about our meadow – it was left entirely to its own devices.
Like many of us over the last few months, even as a natural science curator, I have felt myself re-connecting with nature in new and different ways, especially on my daily walk and with time to spare and to look closely. I've re-discovered my childhood curiosity and found myself taking photographs of flowers on my mobile phone and making mental notes whenever I see a new butterfly. The living world is therapeutic and reassuringly calming in such tense and troubling times.
So, how has our meadow changed since I saw it last? How has it been coping left to its own natural 'wild-flowering' ways? Because the truth is, creating and managing a 'natural meadow', is much more time consuming and problematic than most conventional gardening. There is a fine balance to be struck between the colourful 'natural look' which is desirable, and the undesirable abandoned 'wasteland look', which isn't! Very quickly one can become the other.
Every year a new plant makes a bid for meadow supremacy. First it was white clover, then it was ox-eye daisy, followed by yellow-vetch and more recently it has been alexanders – a statuesque plant, with a head of delicate yellow-white florets that belie its extreme 'thug like' invasive tendencies. Sometimes these plants naturally decline and sometimes they have to be removed.
First impressions, when I arrived last week were mixed. The grass paths had disappeared but were quickly mown and the smell of cut grass and herbs was pleasingly reminiscent of hay-making. These mown paths are important because they help people to get up close to individual plants and, because they visually 'tell' passers by, that the 'wildness' is deliberate. There were also a lot of thoughtlessly discarded tin cans and wind-blown plastic bags, which were easily tidied up.
Some plants had been and gone without me even seeing them. Or, at least I hope they had had, their flowering moment in splendid isolation. Most notable amongst these is meadow saxifrage, one of my all time favourite wildflowers. It has a simple white flower that suddenly appears on a long stem and can be seen gently swaying in the breeze. It's hard to believe that such a delicate plant can survive amidst taller and more robust plants and grasses. But it does, and it thrives, forming clumps of rosette leaves at its base.
At the end of last year, we had sown some more yellow rattle seed, digging it into bare soil with the heel of our shoes. It had germinated well and there was an extensive carpet of this very special annual plant before me. The attractive yellow flowers were fading and the papery seedpods, which rattle when the seed is ripe, were everywhere. Yellow rattle is semi-parasitic, taking water and nutrients from surrounding plants, especially grasses. This makes it an excellent 'natural tool' in meadow management, helping to stop the growth of dominant grasses and allowing space for smaller wildflowers to grow.
Gardener's talk about the June 'flowering gap' and this appears to have come early this year. No doubt enhanced by the extended period of hot and dry weather that we have been experiencing. Many wildflowers, such as the wild strawberry in our meadow, were clearly struggling from a lack of rain and the fruits were shrivelled and un-appetising. Many grasses were also turning the colour of dry straw. But other plants, especially the knapweed, were clearly flourishing and providing a valuable pollen and nectar source for bees and other insects.
I made a decision to water the struggling plants and spent a happy couple of hours, in the sunshine, with a hosepipe, spraying and noting the number of plant species in flower. Despite repeated attempts, I was unable to photograph the mini rainbows that this created.
The look of the meadow was subtle with few stand-out highlight colours visible from the road. In a couple of weeks' time, blousy cornfield annuals should help to rectify this and the meadow geranium and field scabious should soon cloak it in shades of blue and mauve. I counted while I watered, and saw over 70 different species of wildflower and grass in flower. But many, such as sainfoin, had to be looked for carefully.
Without doubt, the most impressive wildflowers were the large specimens of hoary mullein, spectacularly framed by the mellow sandstone walls of the museum. The four different types of wild rose were lovely to see, and the primary colours of hound's tongue and hawkweed very striking. But where were the buttercups that had been growing so well last year? Every year is different as the meadow changes and evolves.
During lockdown, the meadow has provided a colourful home for wildlife in the middle of Liverpool's city centre. I hope that it has also brightened up the lives of people who live and work there, as they walk by.