The world's most trafficked animal
Pangolins have been exploited by humans for at least 1500 years, from colonial pets to use in traditional Chinese medicine. Dr John James Wilson, tells us more about these animals under threat of extinction.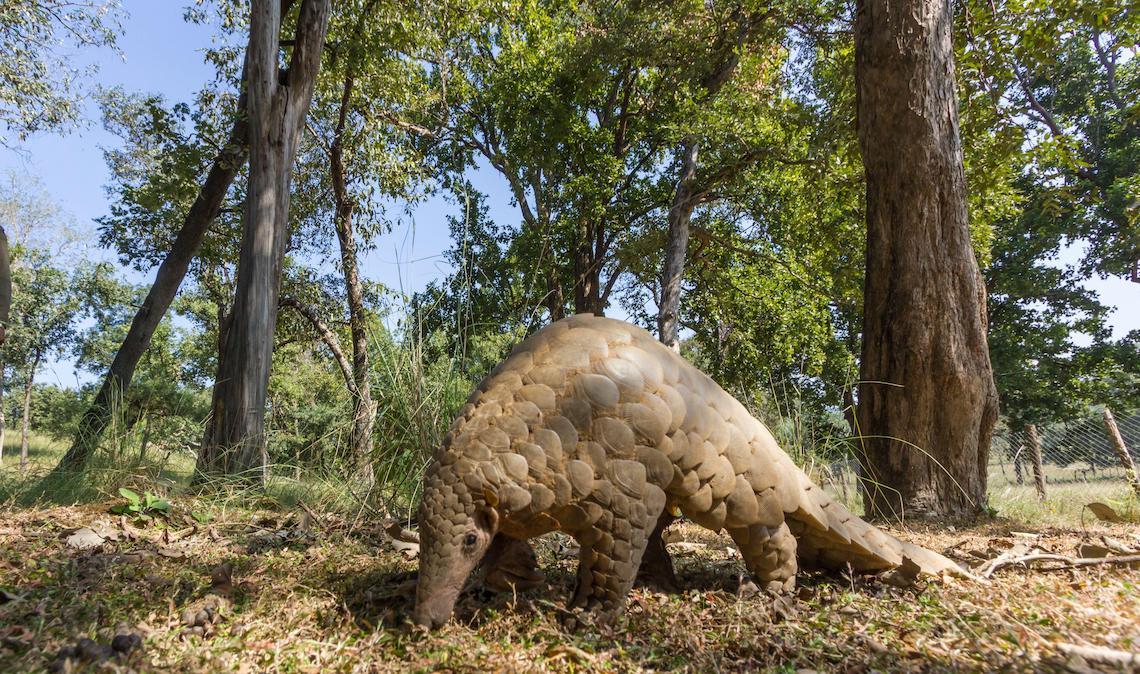 Sometimes called scaly anteaters, pangolins are the only mammals whose bodies are covered in hard scales. Pangolins are found in South, Southeast and East Asia, and sub-Saharan Africa. There are eight living species, and all eight species of pangolins are threatened with extinction. More than 1 million pangolins have been trafficked in the last decade.
Humans have been exploiting pangolins for hundreds of years. In China, traditional medicine prescriptions for pangolins scales can be traced back to at least the year 480 CE.
Centuries later, pangolins in Asia came to the attention of Europeans when 'enlightened' officers of the British East India Company (EIC) and their families became curious about the local wildlife. As a precursor to the British Empire, the EIC had seized large parts of South Asia and key trading ports in Southeast Asia.
Mary Impey, wife of the EIC's chief justice of Bengal, had a private zoo at her Kolkata home and famously commissioned local artists, including to Shaikh Zain ud-Din illustrate the animals. 

Similarly, William Farquhar, the EIC's Resident and Commander of Melaka, commissioned local Chinese artists to draw the native fauna, including two pangolins.

In Nepal, Brian Houghton Hodgson worked for the EIC as a postmaster then political representative. Hodgson had a deep interest in natural history and sent animals from Nepal to the EIC's museum, established in London in 1801 to house specimens collected by company officers. One of Hodgson's pangolins was acquired by the Liverpool Museums from the EIC in 1855.

Theodore Cantor was a Danish physician who worked for the EIC in Penang. Cantor included a detailed description of the morphology and physiology of two pangolins in a catalogue of mammals he had collected or seen in the Thai-Malay peninsula and islands. Cantor also sent specimens to the company's museum and one immature pangolin acquired from the EIC by the Liverpool Museums in 1855 may be the young male Cantor dissected.

Although pangolins were now well-known to naturalists, they remained something of a mystery to European travellers. Anna Brassey visited Singapore (a former EIC port) as part of a round-the-world voyage in 1877 and was gifted a 'pet' by the Maharajah of neighbouring Johor. Brassey remarked the animal was a "live little beast, not an alligator, and not an armadillo or a lizard; in fact I do not know what it is…". It was a pangolin. While a pangolin may look like an adorable pet, Cantor reported that his pangolin had only survived 10 days in captivity.
Meanwhile, the trade in pangolin scales for traditional Chinese medicine continued unabated. A 1938 news item in the British journal Nature reported that the colonial government in Java had introduced regulations prohibiting the capturing and killings of pangolins and the export of scales.
Sadly, such regulations, including the Convention on International Trade in Endangered Species (CITES), have proved ineffective at limiting the trade. Today, pangolins are considered the world's most trafficked animal, with the supply side shifting to Africa due to the decimated pangolin populations in Asia.
Pangolin scales are used in traditional East Asian medicines as purported cures for a variety of health problems including skin conditions and cancer. The scales are actually similar to human fingernails, being formed of keratin, and their use as medicine has no scientific basis. Pangolin meat is eaten as a luxury dish in high end restaurants in China and Vietnam. Pangolins are also eaten as bushmeat in Africa, but following the decline in Asian pangolins, African species are increasingly being trafficked to Asia. Between 2015 and 2018, scales from 200,000 African pangolins were seized either in Africa bound for export, or in transit to Asian markets.
World Pangolin Day is commemorated every year on the third Saturday in February to raise awareness of the plight of pangolins and to support their conservation. To find out how you can help, Save Pangolins is a nonprofit project whose mission is to conserve pangolins by transforming relationships between people and pangolins.