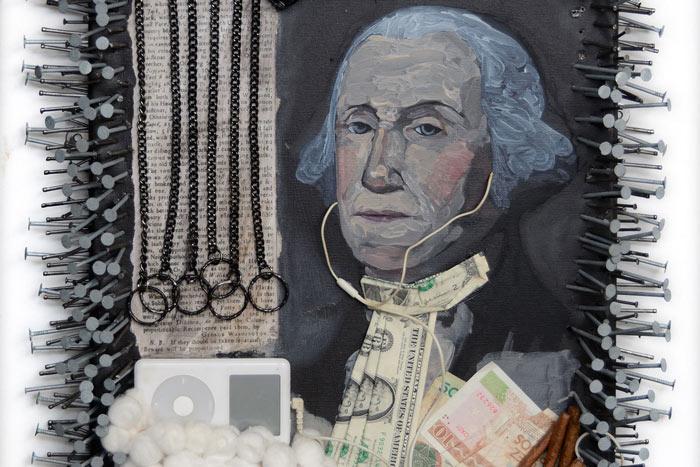 Transatlantic and contemporary slavery collecting project
In 2014 the International Slavery Museum received a £225,000 grant from the National Lottery Heritage Fund's Collecting Cultures programme to help develop its collections. The Transatlantic and Contemporary Slavery Collecting Project ran for four years and resulted in more than 40 new objects and documents being added to our collections, including many new artistic works. 
The acquisitions have been twofold:
The transatlantic slavery collection, targeting items such as ivory tokens, abolitionist correspondence and objects.
The contemporary slavery collection, targeting objects which will increase public awareness of contemporary slavery and ignite discussion.
The funding has also enabled the International Slavery Museum to develop public programmes using the collections and their stories, history and research to give a voice to the objects.
Why collect art?
Artistic responses to the history of transatlantic slavery, its legacies and contemporary forms of slavery by artists such as Kimathi Donkor and Alison Welsh provide important new voices and new perspectives. We hope that through the art we collect and the artists we work with, the International Slavery Museum can create a richer and more challenging way in which visitors and students can engage and learn about this history and its legacies.
Why does the International Slavery Museum collect?
The International Slavery Museum currently holds many objects and documents related to the history of transatlantic slavery. They help us to tell many stories including Liverpool's role in the slave trade and that of its most prominent merchant families. Because we understand the deep and permanent impact the history of transatlantic slavery has had around the world, we continue to collect and to identify new items for the museum's collections which will help to tell this story and the story of its legacies in today's world.
Header image: detail of 'UK Diaspora- Arise Sir John' by Kimathi Donkor