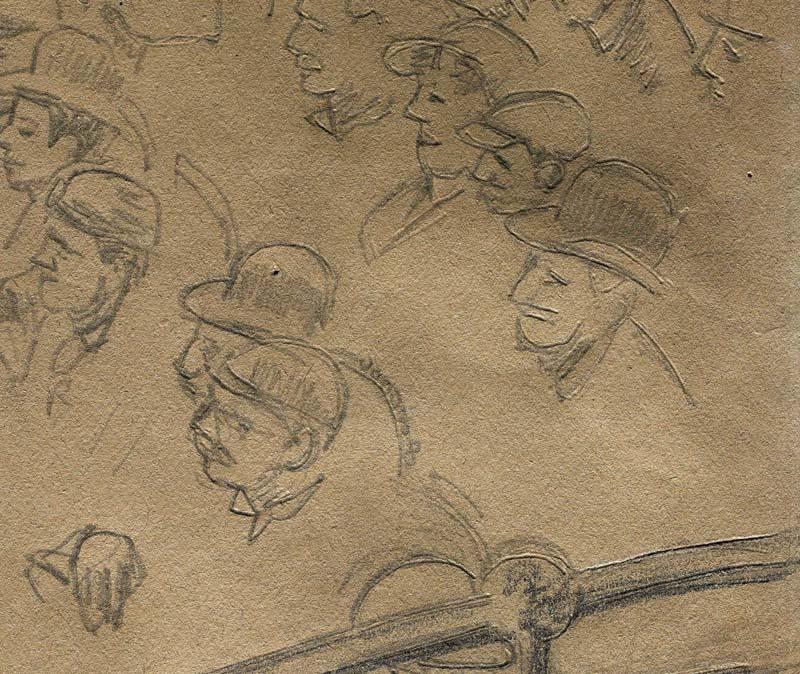 Walter Sickert's Drawings
Walter Sickert's career spanned six decades and multiple art movements. Born in Munich, Germany, in 1860, he moved to Britain with his family in 1868. As a young artist, he was apprenticed to the American painter James Abbot McNeill Whistler (1834-1903) who, along with the French impressionist painter Edward Degas (1834-1917), greatly influenced Sickert's early work.  
The Walker Art Gallery has the largest collection of Sickert drawings in the world, with 348 sketches, plus 12 prints and a copper etching plate. The collection demonstrates the varied, vital role drawing played in Sickert's practice. The drawings range from on-the-spot sketches made to capture a particular pose or detail, to final studies for paintings, and drawings made as artworks in their own right. The drawings are typically small, sometimes on lined paper from exercise and ledger books. They were often sketched under the dim lighting conditions of a music hall. Also included are prints by the artist Therese Lessore (1884 – 1945), a founding member of the London Group in 1913. Her work often focused on scenes from everyday life. She married Sickert in 1926 and spent much of the rest of her life collaborating with him on his work, often neglecting her own artistic practice to support him.  
Many of these works have never been seen in public before. They have been made available online to coincide with the exhibition Sickert: A Life in Art and as part of our ongoing project to catalogue and digitise the Walker's entire collection of over 8000 works on paper.