Ink and blood: Stories of abolition opens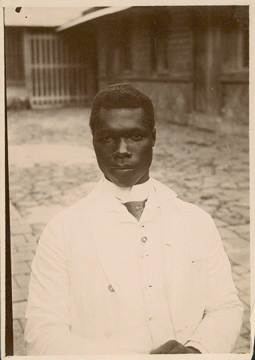 Special exhibition for 10 years of the International Slavery Museum
The International Slavery Museum in Liverpool is revealing the first of its major 10th anniversary events with the opening of a brand new exhibition, Ink and blood: Stories of abolition, on Monday 21 August.
The anniversary exhibition will explore abolition (the ending of slavery) and reveal the lives, losses, and triumphs of the people it affected in the 18th and 19th centuries and their later freedom.
Ink and blood: Stories of abolition will show abolition up close through ink (paper) and blood (people), revealing personal stories from Argentina, Cuba, Jamaica, the United States and Bahrain, through powerful modern creative responses to abolition, significant historical documents and rare objects.
The International Slavery Museum is the only museum in the world to look at the Transatlantic Slave Trade and modern slavery. It opened on 23 August 2007 – the bicentenary year of the abolition of the British slave trade, and the annual date of Slavery Remembrance Day.
Dr Richard Benjamin, Head of the International Slavery Museum said: "The opening of this exhibition, which looks at the human face of abolition, is a great reminder of the Museum's roots, opening on the Bicentenary of An Act for the Abolition of the Slave Trade, an important moment in the history of slavery and the Transatlantic Slave Trade."
Highlights of Ink and Blood include a newly acquired sculpture of Olaudah Equiano entitled OLAUDAH EQUIANO - African, slave, author, abolitionist by London sculptor Christy Symington; an artwork called UK Diaspora by Black British artist Kimathi Donkor, and a plantation stock book for Roslin Castle estate, which has never been on display before - a crucial and touching book of accounts with key information about life on a Jamaican plantation.
Jean Francois Manicom, Curator, International Slavery Museum, said:
"For me this exhibition is the perfect time to bring personal adventures and stories back into Official History. Just a few grams of paper but millions of human lives and shattered destinies: Ink and Blood."
OLAUDAH EQUIANO - African, slave, author, abolitionist

by Christy Symington MRBS
Writer and abolitionist Olaudah Equiano (1745-97) was considered highly influential in ending the African slave trade for Britain and its colonies, through his campaigning and autobiography of 1789 entitled 'The Interesting Narrative of the Life of Olaudah Equiano, or Gustavus Vassa, the African'.
Kidnapped from his African village when he was just a child, Equiano was enslaved and taken to the West Indies where he experienced terrible abuse and suffering. Eventually, he managed to buy his own freedom and reached England, where he took an active part in campaigning to end the British slave trade.
Sculptor Christy Symington MRBS responded to this narrative, saying:
"When I learnt of Equiano and his huge significance in UK history, I was shocked to discover that, like me, many people I spoke to had also not heard of him and I wanted to share his story. It was leading up to the 2007 Bicentenary commemorations of the Act to end slavery in Britain, so I made this sculpture to give physical presence to his life.

"The sculpture reflects Equiano's social standing through his clothing and hairstyle which was unusual for a Black man in that period and the continent of Africa is implied by the shape of the back of his shoulders. Broken shackles and chains are sculpted around the base of the sculpture, prompting his opposition to slavery. Imprints of the Brooke's slave ship diagram and an enlarged detail of a single enslaved female figure from the diagram are found on the stem of the sculpture.

"My focus on making sculptures of people hidden in our history is to bring their presence into our lives. After a decade of journeys to exhibitions in the UK and overseas, I hope that the sculpture being on display in the context of the 10th anniversary of the International Slavery Museum, encourages more people to learn about Equiano's life."
UK Diaspora by Kimathi Donkor
UK Diaspora is a mixed-media artwork by Black British artist Kimathi Donkor, which includes ten vibrant collages of objects and images symbolising British involvement in transatlantic slavery. Arranged like a map of Great Britain, it includes portraits of famous participants in the Transatlantic Slave Trade and imagery from the artist's visit to Cape Coast Castle in Ghana.
Kimathi Donkor said:
"In 2007, as we remembered Parliament's abolition of the UK slave trade, I wondered if glamourous movies about Queen Elizabeth I, or portraits of George Washington on the dollar bill, made us forget how they and others masterminded slavery? As a person of both African and Jewish heritage, I wondered what I'd think if Germany tried to put Hitler on the Euro? So, in UK Diaspora, alongside Washington's portrait, I've included things like his call for help in recapturing those who escaped his private slave-labour camp (which, at first, was part of Britain's empire). My intention with these unusual juxtapositions is to question how historic images and institutions shape the perceptions of contemporary society."
Kimathi Donkor will give a free talk on his UK Diaspora artwork on 23 August at 1pm at the International Slavery Museum, followed by a Q and A session. More information available at: www.liverpoolmuseums.org.uk/ukdiaspora
Plantation Stock Book for Roslin Castle Estate
From 1791 to 1813, the owner of the Roslin Castle Estate plantation meticulously did his accounting. Year after year, he wrote down the births, the deaths, the purchase and sales of his slaves, exactly as he did for his cattle.
Jean Francois Manicom, Curator, International Slavery Museum said:
"Beyond the coldness of the accounting style, this book is also a window opened onto the lives of Mary, John or Peter; it allows us to grasp, even fleetingly, the lives of those men, women and children deprived of their identity and treated without any human dignity. It gives us a sense of the hope that animated those people who would, a few years later, become the people of Jamaica."
The International Slavery Museum highlights the international importance of enslavement and slavery, both in a historic and modern context. Working in partnership with other organisations with a focus on freedom and enslavement, the Museum also provides opportunities for greater awareness and understanding of the legacies of slavery today. Since opening its doors in 2007, the International Slavery Museum has welcomed over four million visitors including 279,119 schoolchildren. The Museum has a year-round programme of free events, talks and exhibitions.
In 2017, special events have been organised for the anniversary year, including Liverpool's annual Slavery Remembrance Day commemorations. For further details, please visit http://www.liverpoolmuseums.org.uk/ism/events/10th-anniversary-listings.aspx #ISM10years and www.liverpoolmuseums.org.uk/srd and #srdliverpool
Ink and blood: Stories of abolition has been supported by the Parliamentary Archives, Archives Nationales d'outre-Mer, the New York Historical Society, Anti-Slavery International Archives, the Heritage Lottery Fund Collecting Cultures programme, and the private collection of Jean-Francois Manicom. For more information see www.liverpoolmuseums.org.uk/inkandblood and #inkandblood.
OLAUDAH EQUIANO - African, slave, author, abolitionist and UK Diaspora are acquisitions through funding from the Transatlantic and Contemporary Slavery Collecting Project, part of the Heritage Lottery Fund's Collecting Cultures programme.
Notes to Editors
International Slavery Museum
The International Slavery Museum opened in August 2007. It is situated on the third floor of the Merseyside Maritime Museum at the Albert Dock. It is the only national museum in the world to cover the transatlantic slave trade and its legacies as well as contemporary forms of slavery and enslavement. It is also an international hub for resources on human rights issues and campaigning.
About Kimathi Donkor
Dr Kimathi Donkor's art has been shown in solo and group exhibitions internationally, including at the Diaspora Pavilion in the 57th Venice Biennale (2017), The New Art Exchange in Nottingham (2017), Gallery MOMO in Johannesburg (2015), Rivington Place in London (2012), the 29th São Paulo Biennial (2010), CUC in Liverpool (2008) and the Bettie Morton Gallery in London (2004). Born in Bournemouth in 1965, he spent some of his childhood in Zambia and studied Fine Art at Goldsmiths College and Camberwell College of Art. In 2016, he attained his PhD at Chelsea College of Arts. Examples of Donkor's work are held in collections internationally, including the Wolverhampton Art Gallery and the Sindika Dokolo Foundation.
About Christy Symington
Christy Symington MRBS is a Member of the Royal British Society of Sculptors and elected Council Member 2003-07. Traditional figure sculpture and drawing studies were taken in Paris followed by four years at the New York Studio School USA with exchange to the Slade School of Art and MA at Byam Shaw (Central Saint Martins). Solo shows and many group exhibitions include Society of Women Artists (2017), Black Cultural Archives 'Black Georgians: The Shock of the Familiar' (2016), Stephen Lawrence Centre Gallery solo exhibitions (2016, 2015), The Hermitage Amsterdam (2016), Conway Hall (2015), ZSL London Zoo Tiger Commission (2013), 'Avril/Symington' Marist College NY (2012), Pangolin London (2012), Chiang Mai University Thailand (2011), V&A Freedom to Create Prize (2009), Threadneedle Prize (2008), University of Leicester 'RBS Centenary' (2007, 06), DACS (2009, 07), Society of Portrait Sculptors (2007, 04, 02), RWA Sculpture Triennial (2003, 04), National Arts Club NY (2001), Vermont Studio Center Residency USA (2001), Angel Orensanz Foundation NYC solo (1999). Work in international private and museum collections.
Christy Symington's sculpture copyrights are licensed by DACS (Design and Artists Copyright Society).
DACS images usage
Christy Symington's sculpture copyrights are licensed by DACS (Design and Artists Copyright Society).
Press use is considered to be moderate use of images to report a current event or to illustrate a review or criticism of the work, as defined by the Copyright, Designs and Patents Act 1988 Chapter 48 Section 30 Subsections (1) - (3). Reproductions which comply with the above do not need to be licensed.
Reproductions for all non-press uses or for press uses where the above criteria do not apply (e.g. covers and feature articles, advertorials) must be licensed before publication. Further information can be obtained at www.dacs.org.uk or by contacting DACS licensing on +44 207 336 8811.
Due to UK copyright law only applying to UK publications, any articles or press uses which are published outside of the UK and include reproductions of these images will need to have sought authorisation with the relevant copyright society of that country. Please also ensure that all works that are provided are shown in full, with no overprinting or manipulation with the artist's name and artwork title listed.'
Heritage Lottery Fund
Thanks to National Lottery players, we invest money to help people across the UK explore, enjoy and protect the heritage they care about - from the archaeology under our feet to the historic parks and buildings we love, from precious memories and collections to rare wildlife. www.hlf.org.uk @heritagelottery
About Collecting Cultures
OLAUDAH EQUIANO - African, slave, author, abolitionistand UK Diaspora are acquisitions through funding from the Transatlantic and Contemporary Slavery Collecting Project, part of the Heritage Lottery Fund's Collecting Cultures programme. The Museum has also used this funding to acquire a copper engraving by the famous British caricaturist James Gillray, announced on 10 December 2015, International Human Rights Day; a pair of shackles used onboard slaver ships during the so-called 'Middle Passage', and a letter written by the female anti-slavery campaigner, Sarah Greenshaw. To learn more about our Collecting Culture programme please visit our website or contact us at http://www.liverpoolmuseums.org.uk/ism/about/collecting-cultures.aspx
Liverpool and the slave trade
Liverpool became the major port for the transatlantic slave trade. Liverpool ships were involved in forcibly transporting as many as 1.5 million enslaved Africans across the Atlantic from 1699 until the British Parliament passed the Act for the Abolition of the Slave Trade in 1807. As a result, much of the city's wealth in the 18th and 19th centuries came from the profits made by the enslavement of Africans which cemented the foundations for the port's future growth. In 1999 Liverpool City Council passed a formal motion apologising for the city's role in the transatlantic slave trade and the enslavement of Africans.
About National Museums Liverpool
National Museums Liverpool comprises eight venues. Our collections are among the most important and varied in Europe and contain everything from Impressionist paintings and rare beetles to a lifejacket from the Titanic. We attract nearly 3million visitors every year. Our venues are World Museum, Museum of Liverpool, the Walker Art Gallery, Merseyside Maritime Museum, International Slavery Museum, Border Force National Museum, Sudley House and the Lady Lever Art Gallery.