NATIONAL MUSEUMS LIVERPOOL VENUES TO REOPEN
National Museums Liverpool (NML) has announced that its museums and galleries will reopen to the public on Wednesday 2 December.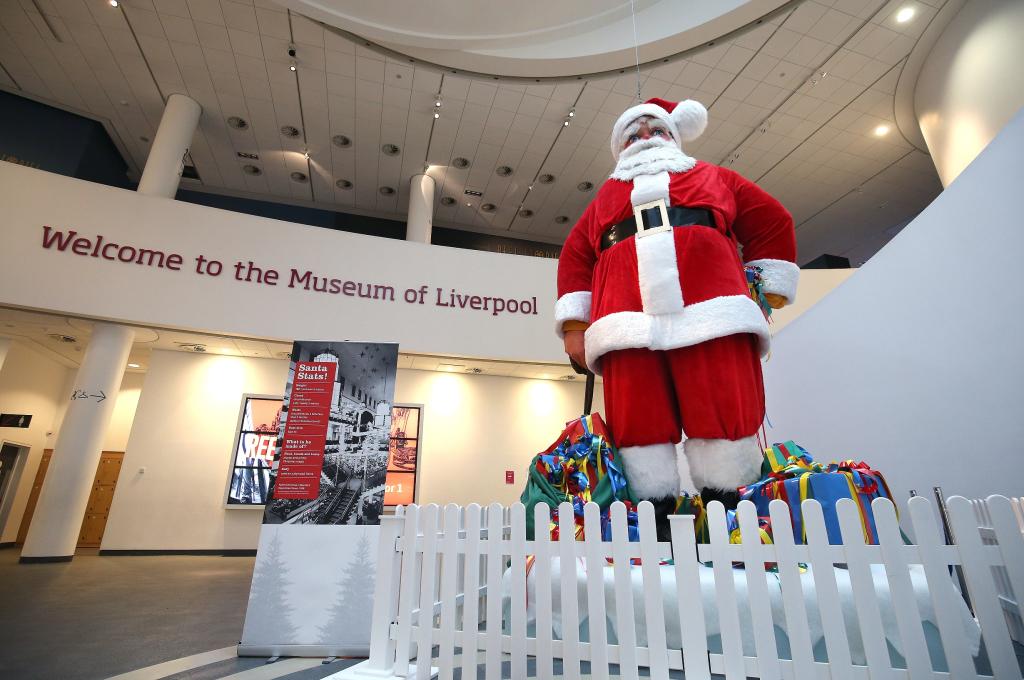 National Museums Liverpool to reopen doors to the public again
Blackler's giant Father Christmas will welcome guests to the Museum of Liverpool
Have your say on the future of World Cultures Gallery at World Museum
Celebrate Christmas with Hosted by NML's Merry time at the Maritime
Support artists, designers and makers in the city by shopping for Christmas gifts
National Museums Liverpool (NML) has announced that its museums and galleries will reopen to the public on Wednesday 2 December.
The news comes following the government's announcement that Liverpool will be in Tier 2 when the latest restrictions come to an end.
The Walker Art Gallery, World Museum, Museum of Liverpool, Maritime Museum, International Slavery Museum, Lady Lever Art Gallery, Sudley House and Seized! will be open from Wednesday – Sunday, 10am – 4pm (closed Mondays and Tuesdays).
Blackler's Santa, which was on display at Blackler's department store from 1957 to 1988, will welcome guests to the Museum of Liverpool, followed by . Shortly after re-opening, Champion One, Champion All!, a new digital exhibition by Liverpool photographer Anthony Wilde will go on display. Part of the On Record – Untold & Retold Black music festival, the exhibition is a unique snapshot of Liverpool's Black music scene, its key players and those under the radar and aims to challenge the homogenised view of Black music.
Visitors to World Museum can look forward to a brand-new entrance to the World Cultures gallery, with bold interventions, welcoming visitors back into the space from 11 December.
Laura Pye, Director of National Museums Liverpool said: "We'd like to thank the people of Liverpool for supporting the mass testing pilot, which has helped to drive down the number of Covid cases in the city, enabling us to reopen our museums and galleries in the run up to Christmas. We must however, remain vigilant so this achievement doesn't go to waste.

"We are asking visitors to follow our safety procedures such as booking in advance and wearing face coverings. We also encourage visitors to regularly get tested so we can keep the transmission rate down and continue to welcome people to our venues."

She added: "With the festive season upon us, Blackler's Santa has become a firm festive favourite at the Museum of Liverpool since joining our collection in 2013. It's wonderful that he is back this year to delight visitors amid what has been a very uncertain time, bringing back memories back for many, whilst creating new ones for the younger generation.

"We'll also be keeping the Black Lives Matter conversation going by celebrating key figures who have shaped the city's Black music scene in Champion One, Champion All! and encouraging visitors to continue helping us shape the future of World Cultures gallery, enabling us to create displays and a space where issues of colonialism and injustice can be openly explored."
The cafe at Merseyside Maritime Museum will be open Saturdays and Sundays 10am – 4pm but all of NML's other cafes will be closed. However, NML's events team, Hosted by NML, have created a festive food-focused experience for visitors at Merseyside Maritime Museum on Friday and Saturday nights during December. Nicknamed 'Merry time at the Maritime', guests will be treated to a three-course Christmas meal and all-inclusive drinks on the top floor of the museum.
The shops at the Walker Art Gallery will be open Wednesday to Sunday 10am – 4pm and while the remainder of NML's shops will be closed, people can still access the online shop 24/7, which stocks a specially curated selection of locally made unique handcrafted goods.
Alternatively, surprise the person in your life who has everything with a membership, giving them access to eight museums and galleries. Individual membership starts from £30 and will give you free unlimited access to blockbuster exhibitions, including Linda McCartney Retrospective, which has been extended until 10 January, and the upcoming AI: More than Human exhibition, which opens on 22 January. You will also go free into the Planetarium when it reopens and Old Dock Tours, get discounts in NML's cafes, restaurants, shops and online shop and receive invitations to special members-only events. 
Profits from the cafes, shops, events and memberships help to support National Museums Liverpool's venues, activities and programmes, which benefit millions of people every year.
Visits to NML's venues will remain free, but timed entry slots must be pre-booked ahead of visiting via www.liverpoolmuseums.org.uk
All NML's venues have been awarded Good To Go status, designed by VisitEngland and recognised by the National Tourist Organisations of Great Britain and Northern Ireland. This Industry Standard mark confirms that we have followed government and industry COVID-19 guidelines, have a Risk Assessment in place and a process to maintain cleanliness and aid social distancing.
Ends
FURTHER INFORMATION
press@liverpoolmuseums.org.uk
07967551002
Notes to editors
Walker Art Gallery:
Linda McCartney Retrospective (until 10 January). More than 200 photographs explore what a prolific and gifted photographer Linda was, featuring iconic images from the music scene of the '60s, family life and a never before seen selection of photographs taken in Liverpool and Wirral. Tickets are now on sale.
Dressed to impress (until February). Explore everyday life in the 18th century through our stunning collection of intricate costumes and accessories. Showcasing 13 male and female costumes, the exhibition highlights changing attitudes towards desirable body shapes in the 1700s, as well as providing a fascinating insight into the social climate of the time.
John Moores Painting Prize (12 February – 27 June), brings together the best of contemporary British painting, the exhibition will once again host a hugely diverse range of worsk that push the boundaries of paint. This exhibition will be free to enter.
World Museum:
AI: More than Human (22 January – 20 June) which explores the many facets of artificial intelligence through interactive artworks and scientific developments. Tickets are on sale now.
World Cultures Gallery (permanent display). The World Cultures gallery showcases National Museums Liverpool's huge collections from Africa, The Americas, Asia and Oceania. Featuring more than 1,600 objects, the gallery explores the exchange of ideas and objects between Europe and the many cultures represented in the displays. It is now 15 years since the gallery opened and it is time for a change. We have created a space in the gallery to help us think through what that change might be and we want you to join us in the conversation. In the gallery there is a discussion area so you can post your thoughts, ideas and reactions to the changes we plan to make.
Dinosaurs and Natural World (permanent display). Explore the story of life on Earth through a series of displays that will take you on a journey around the world and through time to the beginnings of life itself. 
Ancient Egypt (permanent display) Join us on a 5,000-year journey as we uncover the mysteries of ancient Egypt. Whether it's exploring our mummy room, learning about hieroglyphs or reading spells from the Book of the Dead, discover what life was like in the ancient world and learn all about the secrets to eternal life.
Aquarium (permanent display). Using the latest technology and tanks, you'll be able to see a variety of fish from our collections including tropical fish like our ginormous Eel, tiny Cleaner Wrasse and Clown fish - that's the same species as Nemo! Don't forget to look out for our native fish like plaice, our native shark the Dogfish and Thornback Ray in the cold water tanks that mimic a British dock, and say hello to Archer fish, Monos and Scat live in the mangrove swamp tank. If you visit at feeding time, you can watch the Archer fish shoot bugs off the branches. 
Bug house (permanent display). Enter our wonderful world of magnificent bugs and get closer than you've ever imagined to beetles, spiders, scorpions and more.
Merseyside Maritime Museum:
Merry Time at the Maritime Hosted by NML's festive meals will be served between 6-10pm on Fridays and Saturdays from 4-19 December. Along with all-inclusive drinks, guests can choose from starters like smoked haddock fishcake, duck liver parfait and golden beetroot salad, and mains include a traditional turkey breast and maple-glazed ham, or a wild mushroom and chestnut pie. To finish, you can take your pick from sticky toffee pudding, winter fruit Pavlova or a chocolate pavé. Entry will be staggered to maximise safety, and we will only be accepting reservations from households or support bubbles of up to six people. You will be required to wear a face covering when not sat at your table.
Tickets are £49pp and can be bought online via www.liverpoolmuseums.org.uk/christmasevents
For general information about Hosted by NML events, visit www.liverpoolmuseums.org.uk/venuehire
Life on Board shares the moving and fascinating stories of work and leisure at sea. From the merchant sailors who drove the city's prosperity, to glamorous tales of the people who sailed aboard leisure liners, the new gallery comprises a diverse selection of voices and personal accounts told through digital projections and soundscapes alongside more than 250 objects.
Titanic and Liverpool: the untold story (permanent display). Told from perspectives of key personalities in the drama, the exhibition gives a unique insight into events surrounding the launch, voyage, the sinking and its aftermath. This is an incredible story told from a Liverpool angle.
On the Waterfront Liverpool's docks transformed the fortunes of the city. Their story is a 300 year journey that turned a small, regional port into one of the world's great maritime centres. From the opening of the world's first commercial wet dock in 1715, this exhibition documents the changing fortunes of Liverpool's waterfront and the impact the docks have had on the city.
Museum of Liverpool:
Blackler's Santa The giant Santa, which was on display at Blackler's department store from 1957 to 1988, has become a firm festive favourite at the Museum of Liverpool since he went on display in the atrium for the first time in more than 20 years in 2016 after undergoing a massive transformation.
Champion One, Champion All! is a new digital exhibition by Liverpool photographer Anthony Wilde featuring 33 portraits of key figures who have shaped the city's Black music scene. Part of the On Record – Untold & Retold Black music festival, the exhibition is a unique snapshot of the Black music scene in late 2020 and aims to challenge the homogenised view of Black music. On throughout December.
Black Lives Matter display features some of the stories of the people from across Liverpool who came together on 2 and 13 June 2020 outside of St George's Hall to peacefully protest against racism and the murder of George Floyd.
Covid-19: we're all in this together features objects that represent how local people from across our communities have responded and are being affected by the pandemic. Objects include several key worker 'thank you' banners, an LFC v Atletico Madrid programme and homemade Eid card.
Taking liberties (permanent display). Created by The 1918 Club, a discussion forum for women established by Eleanor Rathbone in 1918, the display, features objects relating to women's suffrage.
Galkoff's and the secret life of Pembroke Place (permanent display). Roller-skating Victorians, gruesome murders, forgotten zoological gardens, a bustling kosher butcher's shop and a vibrant community are just some of the elements in an eclectic history uncovered in a fascinating corner of Liverpool. Supported by a grant from the National Lottery Heritage Fund, the exhibition is the culmination of research, archaeological digs, a painstaking conservation project and the assistance of more than 70 volunteers.
Lady Lever Art Gallery
German Revolution Expressionist prints (until 28 February) is a powerful exhibition portraying a chaotic post-First World War Germany featuring works from some of the twentieth century's most renowned artists including Picasso, Kollwitz, Munch, Schiele and Beckmann.
Sudley House ​​​​​​​
Home and Away features oil paintings of both foreign and local views. The foreign views all come from George Holt's collection, housed at Sudley and inspired by his family's interest in travel. There will also be a range of views of Liverpool and the local area in the 19th century, while the Holts lived at Sudley. The 'home' views largely come from the Walker Art Gallery's collection. The display includes two works by John Atkinson Grimshaw as well as Jean Leon Gerome, Thomas Creswick, Frederick Goodall, Charles Trevor Prescott and Eduardo de Martino.
About National Museums Liverpool
National Museums Liverpool comprises eight venues, including some of the most visited museums in England outside of London. Our collections are among the most important and varied in Europe and contain everything from Impressionist paintings and rare beetles to a lifejacket from the Titanic. We attracted more than 3 million visitors in 2019. Our venues are the Museum of Liverpool, World Museum, the Walker Art Gallery, Merseyside Maritime Museum, International Slavery Museum, Border Force National Museum, Sudley House and the Lady Lever Art Gallery. National Museums Liverpool is regulated by the Department of Digital, Culture, Media and Sport (DCMS). Museums and galleries regulated by DCMS are exempt charities under Schedule 3 of the Charities Act 2011. Registered Office: World Museum, William Brown Street, Liverpool L3 8EN.