THROUGH THE EYES OF MUSEUM OBJECTS: EXCLUSIVE POETRY BY SARAH HOWE AND IMMERSIVES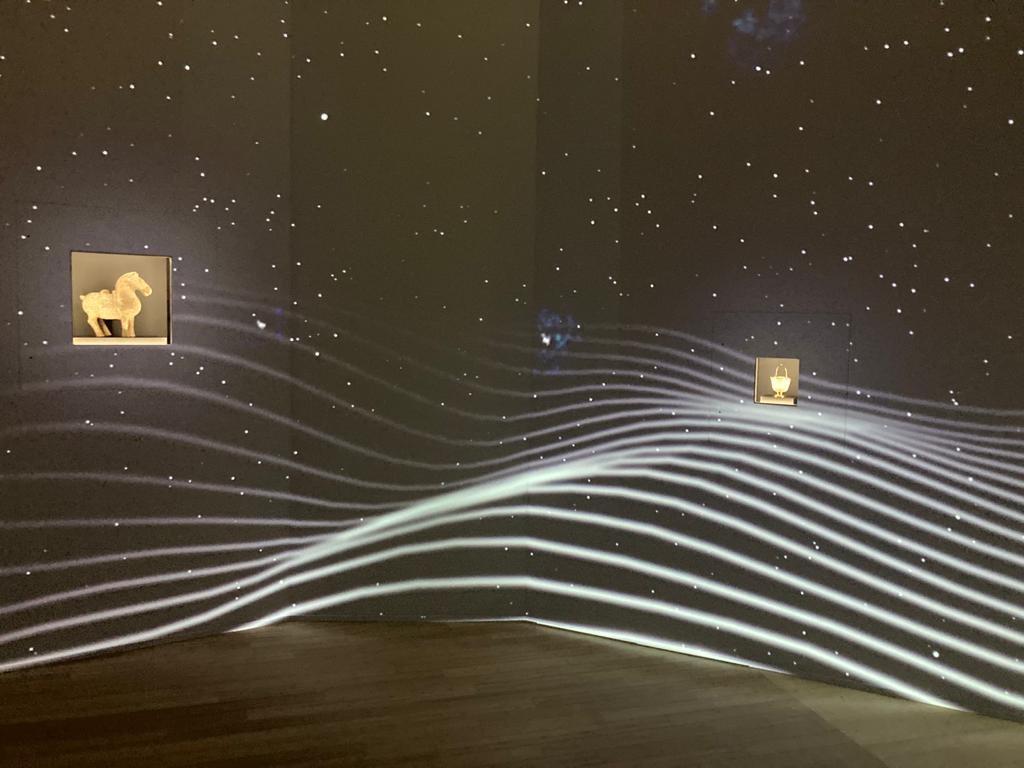 World Cultures gallery at Liverpool's World Museum to reopen with stunning new look at Chinese ceramics

What would a museum object say if it could tell you about the journeys it had made and the worlds it encountered before arriving at the museum?  
 
"I, too, am a survivor. 
My eroded coat dappled with lichen and stars.  
My spirited tail has long   
snapped off…"  
- Earthenware model of a horse, unglazed, by Sarah Howe. 
 
In I, too, am a survivor, T.S. Eliot Prize-winning poet Sarah Howe will bring new life to a group of Chinese ceramics at the World Cultures gallery in Liverpool's World Museum with exclusive poetry she has written through the eyes of the objects, and a stunning immersive experience will complement the works. A 2,000 year-old earthenware horse will speak of its' snapped off, spirited tail and a pair of incense burners in the form of guardian lions will speak of their view from the mantelpiece in imagined narratives of their life and journey before arriving at the museum. It will be the first time the poems are revealed to the public and visitors will be totally immersed in the accompanying audio-visual effects.
I, too, am a survivor is the debut in a series of interventions at the World Cultures gallery in Liverpool's World Museum. It began as a collaboration between the museum and the ERC-funded TIDE project, then at the University of Liverpool. It will open to visitors as soon as museums and galleries are allowed to reopen.
Visitors will walk into a 12-sided room where they will be fully immersed in atmospheric projections with a total 'wow-factor', as they hear about seven objects and their journey, as a recording of Sarah Howe, reading her poems, plays on audio.
Sarah's poems reflect her own experiences as a Hong Kong-born British citizen and her migration to the UK, a country with historic and colonial ties to China and Hong Kong. She wrote the series of poems while 2018 Writer in Residence at the TIDE project, University of Liverpool, a project (now based at the University of Oxford) that explores issues of travel and identity in early modern England and today. She won the 2015 T.S. Eliot Prize for Poetry for her first book, Loop of Jade (Chatto & Windus, 2015). 
Sarah Howe, poet, said:
If it could speak, what stories of travel and belonging would a china dish tell? What language would it use? These were the questions the TIDE project team of researchers helped me to ask of the Chinese ceramics in World Museum's collection, during my tenure as TIDE poet-in-residence. Working with researchers and the museum team, I quickly got a feel for how poetry could help unlock or imagine these objects' lost histories. If we could hear them, these ceramics would have travellers' tales to spin – of a Chinese kiln, of the view from a Renaissance palace's gilded cabinet. The TIDE researchers helped me to glimpse those vistas through historical sources, and to think about words like 'home', 'traveller', 'foreigner', 'belonging', and how their meanings have changed or echo down the centuries. These became the ideas at the heart of the poems.
Emma Martin, Lead Curator for Globalisation, World Museum, said:
I, too, am a survivor questions the way we understand the form and content of museum ethnography displays. It was important for us to ask what a display looks like if we privilege issues and ideas over traditional displays of culture. We wanted to know what we might learn about the objects and ourselves if we looked at the world from the object's point of view. Sarah Howe's poetry has allowed us to do that. The poignant beauty of each poem which can now be heard in the gallery and the many references to journeying, belonging, dislocation and resilience brings a much-needed sense of humanity to the displays. This new approach means we stop staring at objects through glass. Instead, we become immersed in their journeys and invested in what happens to them. By making time for listening to another's life story it enriches our own understanding of the world around us.
This is the first in a series of interventions or 'provocations' at the World Cultures gallery in World Museum, which seek to use theatrical or imaginative displays to expose the difficult and contested histories of collections through collaborations with artists. This is World Museum's way to talk openly about how objects from around the world have come to be in its World Cultures gallery and, uniquely, in Liverpool. The museum is seeking to challenge how objects are displayed and interpreted and by whom.
The seven objects accompanied by an exclusive Sarah Howe poem and featured in the immersive experience are:
2,000 year-old earthenware model of a horse, modelled on the 'heavenly horses' of the central Asian steppes

Pair of white porcelain incense burners in the form of Chinese guardian lions  

Porcelain 'Kraak' dish, imported by the Dutch from South China into Europe 

A porcelain cup made in South China in the 16th century, adapted on its arrival to Europe  

Porcelain tea caddy from the 18th century, a time when tea consumption rose dramatically

800 year-old stoneware dish covered in sea-green celadon glaze, made for export to the Middle East  
The World Cultures gallery at World Museum explores the exchange of ideas and objects between Europe and the many cultures represented in the displays. The museum is now in conversation with visitors, communities and creative practitioners to develop new forms of interpretation for these collections as it seeks to reframe its display of over 1,600 objects from Africa, The Americas, Asia and Oceania in the World Cultures gallery and Weston Discovery Centre through its #WMWhereNext series of surprising and dynamic interventions.
The museum has worked with a group of inspiring and creative people from outside the world of museums, who provoke change and interrogate collections including researchers on the TIDE project and TIDE visiting poet Sarah Howe; comedian, Daliso Chaponda and filmmakers Belle Vue Productions.  Learn more about #WMWhereNext here. 
Contributors to I, too, am a survivor include Sarah Howe and the TIDE project, Adlib, Urban Projections for the motion graphics, Meaningful Magic ( Storyboard Consultant) and Liverpool John Moores University as advisors in the workshop and prototype stages.
www.liverpoolmuseums.org.uk/survivor