Chief Egharevba, a pioneer historian of Benin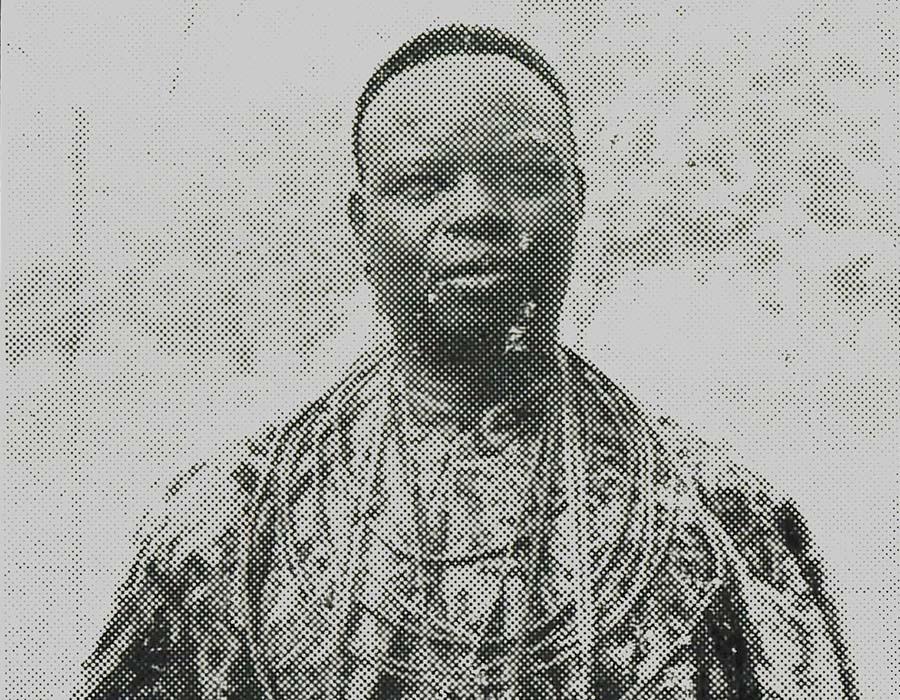 Chief Uwadiae Jacob Egharevba (1893-1980) was a pioneering scholar who made a vital early contribution to understanding of the history and art of Benin.
Through his father Egharevba was descended from a high-ranking Benin official of the early nineteenth century, while his mother was the granddaughter of a Yoruba chief from the city state of Ibadan in south-western Nigeria. His parents were long distance traders. This allowed the young Egharevba to get a year of primary schooling in 1899 in a Yoruba province when this would not have been possible in Benin City, which had been attacked and taken over by a British military force two years earlier.
In 1914 Egharevba moved to Benin City to find a job that would allow him to pay for school fees and complete his primary schooling. He found work there as the servant of a public works engineer in the colonial administration. After a couple of years at a missionary school, during which he converted to Christianity, he was able to leave with his primary certificate. He then took up work as a trader, but continued to educate himself - even enrolling on a correspondence course with an organisation in London in 1926.
Egharevba has been described as a cultural activist and it seems that his activism was particularly inspired when he witnessed the funeral rites of Oba Ovonramwen and the coronation ceremonials of Oba Eweka II in 1914. The British colonial administration had faced considerable resistance from the Edo people in their efforts to impose colonial rule. Although they had attempted to destroy the power of the Benin monarchy when they deposed and exiled Oba Ovonramwen in 1897, the British decided that the restoration of a new oba in Benin after Ovonramwen's death would make it easier for them to resolve friction and opposition in the Edo kingdom through the new oba's authority. Oba Ovonramwen died in exile at Old Calabar in January 1914 and there was an immediate popular call in Benin for his son Aiguobasimwin to succeed to the Benin throne. Later that year the British permitted Aiguobasimwin to be installed at the head of a reconstituted Benin monarchy under colonial control, when he took the name Eweka II.
Although held under very diminished circumstances, the grandeur and beauty of the royal ceremonies Egharevba witnessed in Benin City in 1914 inspired him to start research for a book, which he hoped would counter negative ideas about Benin and help recover memory of its 'power, greatness, civilization and … ancient culture'. Egharevba built a close friendship with Oba Eweka II who reigned from 1914 to 1933 and with his successor Oba Akenzua II, who reigned from 1933 to 1978. Both obas allowed him access to the royal court. He was able to interview priests of the royal ancestors whose roles included memorising lists of successive monarchs going back centuries. He also conducted interviews with titled Benin court officials and with other prominent elders, both men and women. He also consulted European history books with the help of his European contacts which he used according to his own methodology in addition to Edo oral histories.
He drafted his first book in 1921 in the Edo language and it was eventually published to popular success in 1933. In 1934 it was re-published in translation as A Short History of Benin, which became an instant classic. The book's success allowed Egharevba to give up trading and helped launch his career as a writer, printer and historian. It also led to his appointment in 1946 as the first Curator of the Benin Museum. Although this meant taking up a position in a colonial institution, he used it to broaden his efforts in documenting Edo arts and culture.
Egharevba always retained his admiration for Edo history, language and culture. He continued to engage in Edo divination practices and he took a chiefly title at the Benin court. He used Edo songs, biographies, fables, stories and proverbs critically, as historical sources, and also drew moral lessons from them for his younger readers.
As a pioneer in recovering the African past, Egharevba was truly remarkable. He did not complete his primary schooling until the age of about 23 and was blind for the last 30 years of his life, yet by the time he died in 1980 he had published numerous books and pamphlets on many aspects of Edo culture, history, oral literature and art.
Further reading: Uyilawa Usuanlele and Toyin Falola (1994), The Scholarship of Jacob Egharevba of Benin, History in Africa, Vol. 21, pp. 303-318.
Lead image: Portrait photograph of Chief Uwadiae Jacob Egharevba c.1930s. From the frontispiece of A Short History of Benin (Third Edition).