Luxury coaches in Lisbon and Liverpool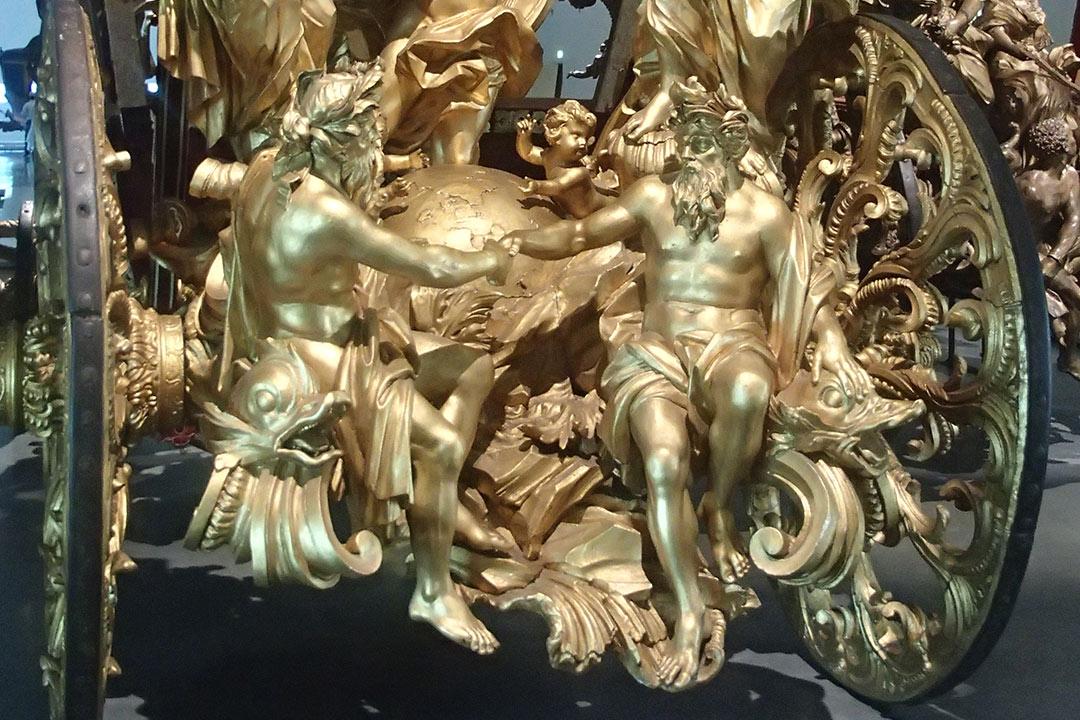 Working from home during lockdown has me constantly dreaming about holidays; hopping in the car, on a train or catching a plane, I am longing to travel again when it is safe. A couple of years ago we visited Lisbon as a family, staying in the city centre and travelling to surrounding areas by tram and train. 
"Oh my goodness, there's a horse drawn carriage museum in Lisbon!" I had exclaimed on reading the guidebook before our trip. My teenage children sighed 'Here we go again!' but this one surpassed their expectations and some.
We caught the train from the city centre to Belém, stopping for much-needed coffee and Pastéis de Nata, (mini custard tarts – worth the holiday on their own) just off the beautiful Jardim Botanic Tropical. 
The Coach Museum is housed in a huge modern white building that caused consternation when plans were announced, echoing the plight of our own Museum of Liverpool, which now blends seamlessly into the city's historic waterfront. As we paid to enter, the museum appeared both cavernous and deserted and we headed to the lift to access the main gallery. Nothing could have prepared us for the huge open space chock full of the most ornate carriages I have ever seen. Our mouths simultaneously fell open and we began a wide-eyed exploration of the collection.
The original National Coach Museum opened in the old Riding School of the Palace of Belém in 1905. It was created by Queen Amélia of Orleans and Bragança, who had married King Carlos I of Portugal, to preserve the important collection of vehicles belonging to the Royal House. It opened with a display of 29 vehicles.
The current display includes coaches, berlins, sedan chairs and carriages from the 17th, 18th and 19th centuries – most of which are decorated in a rich and profuse style. There are also cabinets containing riding costumes and boots, horse harness, travelling trunks and lots of other fascinating accessories.
To commemorate its 110th anniversary in 2015, the museum was transferred to the new building designed by Brazilian architect Paulo Mendes da Rocha. The new museum is a masterpiece of internal design – huge open spaces, minimal interpretation and great use of film on a large-scale. 
Even better was to come when we (or maybe it was just me!) discovered that the old museum was still open to the public and on display was a selection of historic fire service vehicles. The palace exhibition area was incredibly beautiful and a wonderful setting for these old vehicles.
As I marvelled at the ornately decorated coaches I recognised, amongst the less fancy vehicles, some very similar styles to those we have in the collection at the Museum of Liverpool, and indeed several English coach makers were represented in the displays. 
Our collection of private and commercial horse drawn vehicles spans from 1850 to 1950. They are symbolic of the wealth and industry of Liverpool and many were designed and built by local firms. 
Our grandest carriage is the Dress (or State) Coach built for the Earl of Sefton around 1870. It would have been used for formal occasions, pulled by a team of two horses. As well as a coachman (driver) it would also have carried two liveried footmen as a symbol of the importance of the occupants of the vehicle. The carriage was built by Hooper & Company at their Victoria Street, London address but Hoopers also had a Liverpool branch supplying the local gentry. 
The Earl of Sefton, whose home was at Croxteth Hall near Liverpool, had several Hooper-built carriages including a town chariot and barouche and these are also part of the museum's collection. All of the carriages are painted yellow and bear the Sefton family coat of arms on the doors. They are beautifully finished with elaborate springs, elegant lamps and sumptuous internal fittings. Hoopers also built a private omnibus for the Sefton family which was used on their estate and for visits to local sporting events with friends and family. 
In our temporary Liverpool on Wheels exhibition you can see a Sefton landau from about 1900. Numerous designs of horse drawn vehicles existed around this time to meet different needs and occasions. 
Landaus had first been seen in Germany in the mid-1700s. They have twin leather hoods that can be opened or closed depending on the weather and meant that owners would only need one coach for all weathers instead of one for winter and one for summer. However the large hoods, without windows, did mean it was very dark inside the carriage.
The Sefton landau is a lighter version of the original design which only needs one horse to pull it. It was first designed for the Earl of Sefton and so bears his name. 
This coach was manufactured by a Liverpool coachbuilder, J Waugh & Sons. Its early history is unknown but it is not thought that it was ever owned by the Sefton family.
Once the Museum of Liverpool opens again please come and see the Liverpool on Wheels exhibition. Then maybe later you could be tempted to visit Lisbon and enjoy the spectacular display of coaches there as well. Happy days!
You can also take a virtual tour of the National Coach Museum, Lisbon.