Ten years in ten objects
The Museum of Liverpool is ten on 19 July 2021! In our first decade we've welcomed more than 7.5 million visitors, and explored hundreds of histories with individuals, communities, and visitors. We're always growing our collection, capturing important stories and memories through objects, images, oral histories and documents. Here are ten objects that we have collected over the last ten years.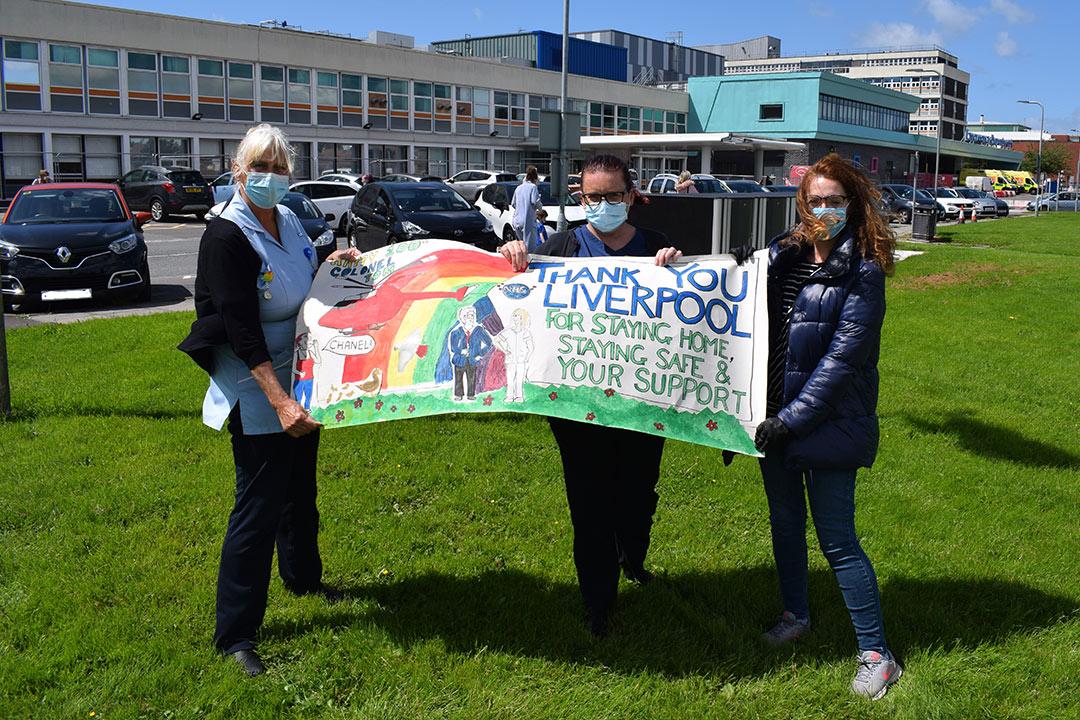 Curators collecting a banner from Aintree Hospital in 2020
We add new objects into the museum collection every year – items which range from mesolithic to modern, from prehistoric flints to production-line Ford vehicles. We continue to collect to broaden the stories of Liverpool City Region's history which are represented. We work to expand the ways we can tell stories in the museum, and how we can contribute to research about our place's past. We ensure we capture lots of information about the objects, their context and significance. 
We can't collect every item we're offered, and we also often have to seek out objects which people don't necessarily think might belong in a museum. We undertake a lot of contemporary collecting, trying to capture the things which are happening in our city now, the things which are important to people. For example, in 2020 it was really important for us to collect objects linked to the Black Lives Matter movement, which was such an important campaign for social justice. We've all been very aware we're living through a hugely important historical moment and we want to collect and preserve objects and stories associated with them for future people.
We work with many communities to ensure that our collections become more and more representative of our place and its past.
Here's a sample of the 21,000 objects which we've collected each year since the Museum of Liverpool opened in 2011, giving a taste of the range or types of objects, and also the significance of the items we care for. We change and update displays frequently, but you might have spotted these items on display over the last decade!
2011
Mosaic sculpture of Mary Bamber (1874-1938), covered in tiles printed with the names and roles of the women who contributed to the local Suffragette Movement. 
Mary Bamber worked as an official for the Warehouse Workers Union and was present at the 'Bloody Sunday' demonstration during the 1911 Liverpool General Transport Strike. In 1919 she became the Labour Councillor for Everton, campaigning on everyday issues such as milk, education and municipal laundries.
You can see this sculpture in our Taking liberties display in The People's Republic gallery.
2012
This Range Rover Evoque is an example of one of Halewood's most successful products ever! The Evoque was launched in July 2011 and has won hundreds of awards globally. 
The car proved so popular that the company had to employ an extra 1,500 staff in its first full year of production. In August 2012 the factory went onto a 3-shift, 24-hour operation to meet this high demand. About 80% of these cars are destined for export around the world.
This vehicle was recently on display in our Liverpool on Wheels exhibition - if you missed it you can still see the virtual tour on our website.
2013
This tall drinking cup was found in a garden in Rainford in the 1990s. This near-complete cup was reported to staff at the Museum of Liverpool nearly 20 years after it was found, and sparked a major excavation which revealed the remains of a potter's workshop and dumps of misfired pottery, damaged in the kiln.  
Rainford was a significant production centre for pottery-production in the post-medieval period. This 17th century cup is decorated in a local style, with vertical facets, the clay cut to create a pattern. 
Find out more on our Rainford's Roots page.
2014
This stone tool is a blade made in the mesolithic period, and was found during excavations at Lunt Meadows, Sefton. It would have been used as a knife in preparation of food and animal skins, and other tasks. 
Hundreds of lithic (stone) tools have been found at Lunt Meadows, This area was inhabited by hunter-gatherers from around 8000 years ago, and rare examples of postholes of early houses have been found at the site.  
2015
Bling from around 1800 years ago, this large silver brooch with gold decoration would have been a very showy piece! Found near Knutsford by a metal-detectorist, this brooch is part of a hoard buried for safety around the AD 190s when there was political instability, and never recovered by its owner. 
It's possible that the significant wealth represented in this hoard was acquired through the production and trade in Cheshire salt which would have been a very valuable commodity for preserving food. 
This find and two hundred others from the hoard were reported through the Portable Antiquities Scheme in accordance with the 1996 Treasure Act laws, and was acquired by the Museum of Liverpool in partnership with Congleton Museum through a grant from the National Lottery Heritage Fund. Find out more about the Cheshire Hoards.
2016
Mirrors to memorialize the deaths of John and Peter Johnson, who were killed during the May Blitz, 1941.
These objects commemorate terrible personal tragedy for the Johnson family, and represent the huge impact that Second World War bombing had on the civilian population of Liverpool. More than 4,000 people were killed in the Liverpool Blitz. 
These two mirrors are hexagonal and each has an oval image of one of the boys. They're beautifully made and hand tinted.
2017
Amplifon acoustic chair from the Liverpool Hearing Centre.
The chair is a replica of the acoustic throne designed for King John of Portugal (1767-1862) who was hard of hearing. A hearing pipe is attached to the back under the toprail. The original acoustic chair was made in 1819 by FC Rein & Son, Aurists and Acoustic Instrument Makers, a firm specialising in hearing devices.
2018
Edwardian shoe excavated at courtyard housing at Oakes Street, Liverpool. This fantastically preserved shoe had been worn and repaired until it was eventually thrown away in a lightwell after a cellar window had been blocked. 
The excavation at Oakes Street was the first in Liverpool to explore courtyard housing, a type of housing which was home to thousands of people through the 18th and 19th centuries, becoming overcrowded as the population of the town grew. Courts were subject of 'slum clearance' work through the 20th century and only three court houses now stand – surviving as the back rooms of shops on the adjacent Pembroke Place.
2019
Illuminated shop sign '96 Justice for All, Hillsborough Justice Campaign'. The Hillsborough Justice Campaign includes bereaved and survivors of the Hillsborough Disaster as well as supporters of the continued fight for justice. Their shop was located at 178 Walton Breck Road, and was a focal point for supporters on match days and at other times. The buildings were demolished in 2019.
2020
Banner, 'Thank you Liverpool for staying home, staying safe & your support'. This banner celebrating public support for the NHS during the Covid-19 crisis includes Chanel the escaped African grey parrot and 'Happy 100th Colonel Tom'. 
The banner was made by Radiographers at Aintree University Hospital. Aintree is a large hospital with 860 inpatient beds. Patients suffering from Covid were treated at Aintree, and it also became a vaccination centre for the immunisation roll-out. Items colected by the museum became part of a Covid-19 display when we reopened following lockdown.
And beyond!
The very latest additions to the collection, this week, are photographs, letters and medals of Captain Gerald Bracton Edwards MC, who served with the King's Liverpool Regiment throughout the First World War and was awarded the Military Cross "for conspicuous gallantry and devotion to duty". It's wonderful to be able to represent his story of military service and being a prisoner of war within the collection. 
I wonder what we'll collect next – what stories are still out there to be told through the Museum of Liverpool collections?
If you have an object that you are considering donating to the collection then please read our object donations page for further details.